CTS Turbo Cooler Kit for 02E DSG
Go Back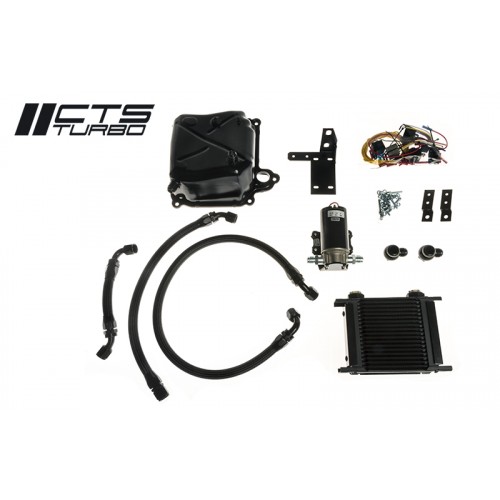 Product Information
CTS Turbo is proud to announce a new DSG cooler kit for the MK6 GTI. Under hard driving conditions your stock oil cooler is easily overwhelmed with the amount of heat produced in the DSG transmission. This leads to excessive oil thinning and premature wear on the transmission components.
The CTS Turbo DSG Cooler Kit is built from high end components including a Setrab High Flow pump and radiator package. Setrab manufactures oil pumps and radiators for motorsport teams all over the world. Reliablily and efficiency place them one step ahead of the competition. Our stainless steel bracketry is cut on a CNC waterjet to ensure high part accuracy and perfect fitment. CTS Turbo also manufactures custom oil fittings so that our kit can utilize -10AN braided lines instead of the smaller diameter -8AN line found in the competitions kits.  At speed, airflow through the front bumper cools the radiator. At low speeds you can depend on the high volume fanpack rated at 342cfm to ensure tempertures are kept in check.
Product Details:
Pre-made -10AN Braided Lines for easy installation

High Efficiency Radiator

TIG welded -10AN fittings welded to replacement oil pan

All necessary wiring and connectors for easy installation

Custom pump mounting brackets

High Flow Oil Pump

Custom Billet Oil Line Fittings.