KW V3 Coilover Kit
Go Back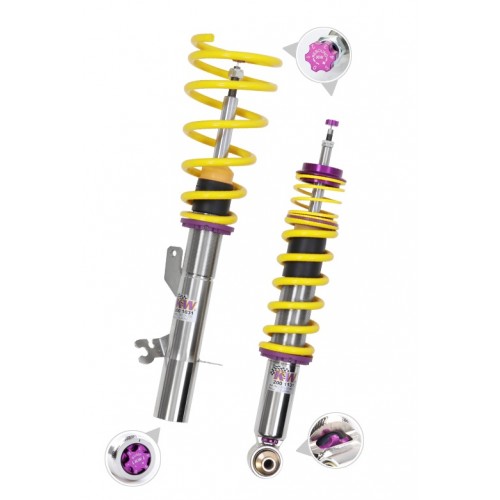 Product Information
Includes $200 in KMD Tuning Gift Card
KW Variant 3: Race technology for the road, with adjustable compression and rebound dampening.
State of the art motorsport technology enables better performance on the streets. The independently adjustable compression and rebound dampening allows for custom driving setups.
The exclusive KW patented system has dual level valves that allow for adjustment of the rebound dampening for your road comfort and the compression dampening that controls the driving dynamics.
Lowering
Front Lowering: 1.4" to 2.5"
Rear Lowering: 1.4" to 2.5"
Notes
2: Front height adjustable by threaded shock bodies. Rear height adjustable by adjustable spring perch.
10: In Variant 2, hardness adjustment for front axle only in not installed condition possible
08: Not for vehicle with automatic self levelling control
02: Height adjustable front and rear axles (front axle threaded strut housings, rear axle adjustable springs + dampers)
8: Not for vehicles with automatic self leveling control.