KW Street Comfort Coilover Kit
Go Back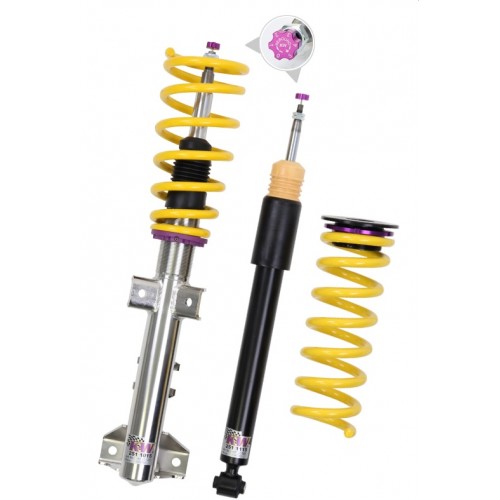 Product Information
Includes $150 in KMD Tuning Gift Card
KW Street Comfort: Individual sport suspension with Maximum comfort
Height adjustable Street Comfort allows a lowering of 10-40mm depending on the vehicle. This allows for the flexibility to improve the look while adding custom products like aftermarket wheels.
At the same time the lowering has a positive effect on the driving dynamics and road contact. With this discreet but effective lowering more spring travel will be retained to combine a comfortable spring with harmonic dampener, this way the best driving comfort is guaranteed.
Lowering:
Front Lowering: 0.8" to 1.7"
Rear Lowering: 0.8" to 1.7"

Notes
2: Front height adjustable by threaded shock bodies. Rear height adjustable by adjustable spring perch.
02: Height adjustable front and rear axles (front axle threaded strut housings, rear axle adjustable springs + dampers)
57: Only for vehicles with a clamp diameter of 54.6 mm on the front axle.
37: Vehicles equipped with electronic damper control: Electronic damper control needs to be disabled. Disable modules available through KW. Please check KW accessories list.
67: Valving is adjusted by adjustment knobs, rebound is only adjustable if the top of the piston rod is accessible. This will depend on the design of the vehicle.