KW V1 Coilover Kit
Go Back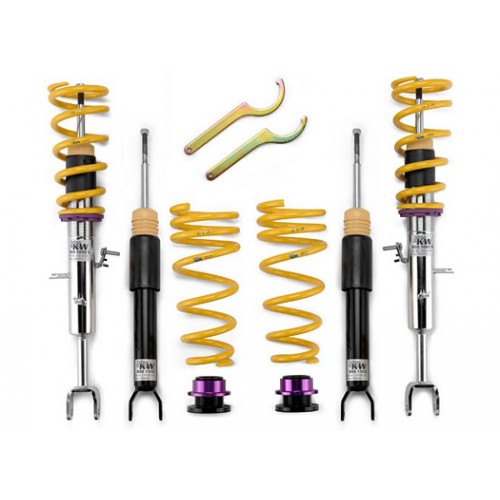 Product Information
Includes $100 in KMD Tuning Gift Card
A coilover is short for coil spring over strut. It consists of a shock absorber with a coil spring encircling it. Coilover suspension systems have become a popular staple in the automotive aftermarket, as they typically offer lower ride height and brilliant handling. They are generally stiffer than the standard shocks and are usually adjustable on the car so you can alter the ride height and stiffness.
This KW V1 Coilover Kit is the ideal system for customers wishing to rely on the experience of our engineers to set the damper setting, yet determine their own degree of lowering. KW engineers used extensive testing, on and off the track, to determine the optimum level of pre-set dampening to offer the ultimate ride quality with the option of the end user to adjust the ride height. This allows the car to be lowered to a specific height for that performance look without sacrificing ride quality.
KW was founded in 1995 and at the beginning it only existed of three employees and had an operating area that was rather small. Today, KW is represented all over the world and has approximately 200 employees in five locations. Currently, KW is the epitome for premium products in car tuning and automobile refinement. KW offers its customers the largest suspension program world-wide and each component is tested using their state-of-the-art seven-post drive dynamics test.
Range of lowering is 1.2-2.4" in the front and 1.2-2.1" in the rear.
KW V1 kits offer:
Stainless Steel "Inox-Technology"

High quality component parts for durability

Sport harmonious dampening technology

Lowering range approved by the TüV

Fully finished complete solutions