AWE Tuning 2.7T Side Mount Intercooler Kit
Go Back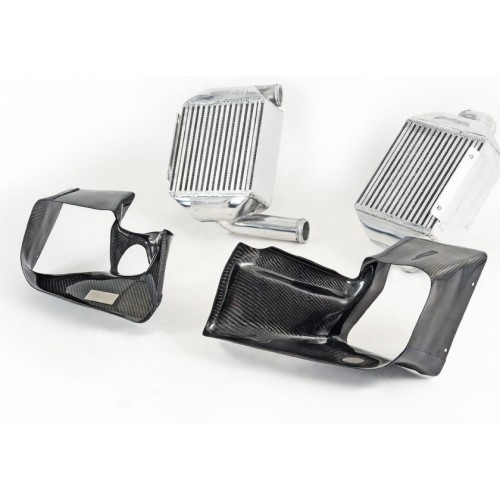 Product Information
The tested AWE Tuning Audi 2.7T Performance Intercooler Kit design uses a closely stacked bar and plate type core, to minimize pressure drops while maximizing heat transfer. Our design target was to exceed the cooling and flow capabilities of Audi RS4 intercoolers -- and through this proven design, we have accomplished this (See detailed test results in the Performance Specs tab). In summary, the AWE Tuning Audi 2.7T Performance Intercooler equals the RS4 intercooler flow rates, and definitively conquers the RS4 intercooler temperature drops.
The construction of the AWE Tuning Audi 2.7T Performance Intercooler Kit is of the highest quality -Efficient cast end tanks are used to ensure maximum flow, and each intercooler assembly is pressure checked before it leaves our manufacturing facility. And in 2012, AWE Tuning introduced carbon fiber shrouds to the mix, producing a lighter, and more aesthetically appealing kit as well.
The bulk of our side mount intercooler testing was conducted on S4s with the AWE Tuning RSK04 kit installed. This is important to consider, given that as boost rises, so will boost drop due to core restriction. Thus, an intercooler can perform well at relatively low boost levels, but can begin to perform worse than stock if the boost drop is high enough to negate any gains seen from temperature drops.