AWE Tuning Track Edition Exhaust
Go Back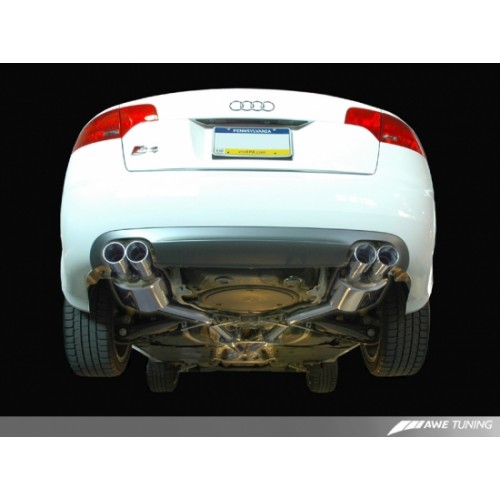 Product Information
Built in AWE's state of the art manufacturing plant, the B7 S4 exhaust is a direct bolt on catback system that not only transforms the rear end of the car with it's menacing quad tips, but also turns heads with a deep muscluar bass note.
Each cat back system features an H-pipe crossover tube at the front to maximize exhaust scavenging for maximum power, as well as to take a harsh edge off the exhaust sounds. Tubing diameter for the entire system is 2.25". This is a deep bass tone, no matter how you cut it.
AWE's exhausts have earned praise from owners and the press alike, due to their unique "Jekyll and Hyde" personality. AWE spends considerable time and effort during development to achieve remarkable civility when idling and crusing at part throttle, while also producing a war-cry wail when full throttle is applied. AWE's exhausts are hand made utilizing only the finest casing and packing materials, they command respect without calling unwanted attention to themselves. Sophisticated, refined, and powerful, all at once.
Dyno proven power gains of 14.2 HP and 14.8 FTLBS TORQUE corrected to the crank.
*Fits both Tiptronic and manual transmission cars.*