AWE Tuning 2.0T Touring Edition Exhaust - Dual Outlet
Go Back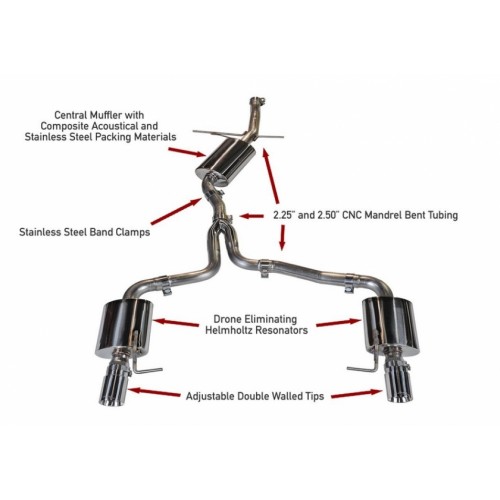 Product Information
This exhaust rises to the standard of all AWE Tuning Performance technology. AWE's exhausts have earned praise from owners and the press alike, due to their unique "Jekyll and Hyde" personality. A5 Research and Development have yielded an exhaust that is remarkably civil while idling / part throttle cruising, but unleashed at full throttle it produces what some have called a "war-cry wail." AWE's exhausts are hand made utilizing only the finest casing/packing materials and they command respect while never losing composure…Sophisticated, refined, and powerful, all in one package.
The stock exhaust system is full of crimped tubing that hurts exhaust flow and robs horsepower. The A5 2.0T exhaust was designed using sophisticated CAD modeling software to produce smooth gradual bends and to eliminate any interruption to the flow of exhaust gasses. AWE's improvements to the exhaust path result in gains of 8-9 horsepower and 6-7 lb ft of torque at the crank.
Replacing the large, restrictive factory mufflers also has a pleasing effect on the engine note. AWE's exhaust systems give the 2.0T a civilized, more melodious voice, with specific attention paid to part throttle, low rpm situations.
Thanks to the use of our specially designed Helmholtz sound cancelation resonators, AWE Tuning was able to isolate and eliminate unpleasant sound frequencies. AWE's A5 2.0T Exhaust Systems come with a no drone guarantee.
Highlights:
Crafted from mandrel bent T304 Stainless Steel
Dyno proven gains of +8-9 Horsepower and +6-7 lb ft of Torque at the crank
Specially designed Helmholtz Resonators to eliminate drone
Available with Polished Silver or Diamond Black Tips
Engineered, developed and tested in-house
No drone. Guaranteed.
AWE's A5 2.0T Exhaust Systems are available with:
Single Outlet, Dual 80mm (3.15 inch) tips designed to work with the factory coupe rear valance where both tips are on the left side of the car.Dual Outlet, Single 90mm (3.5 inch) tips designed to work with the factory cabrio or A5 3.2L rear valance which has one tip on each side of the car.Quad 80mm (3.15 inch) slash cut tips designed to work with the S5 rear valance
Further, each tip variation is available in standard Polished Silver or AWE's recognized Diamond Black plating. The tips sport engraved AWE Tuning logos and are double walled to ensure a mirror polish, even under hard usage. Each tip is individually adjustable, so stagger and depth into bumper can be set according to personal taste.
*Downpipe available for cars with 6 speed transmissions only.