AWE Tuning 3.2L Non-Resonated Exhaust System
Go Back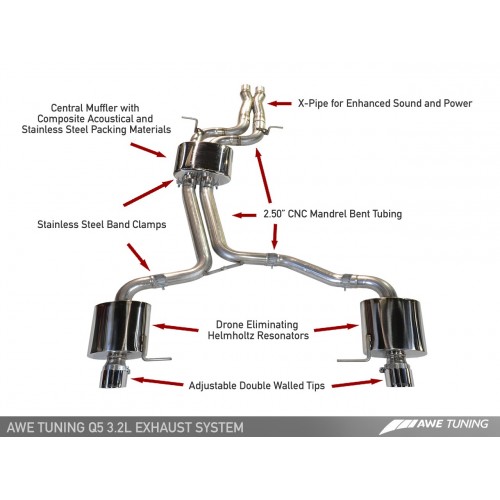 Product Information
For our Q5 3.2L Exhaust, we knew the tone and volume had to be spot on. It needed to deliver an exhilarating wail at full throttle yet be quiet and civil during part throttle, around town driving. Countless research and development efforts by our Fabrication and Engineering Departments have yielded the finest Q5 exhausts on the market.
Featuring an x-pipe for enhanced exhaust tone and Featuring AWE Tuning 180 Technology™ to eliminate drone, our Q5 3.2L Exhaust family is the perfect Performance compliment for the daily driven vehicle.
AWE Tuning Q5 3.2L Non-Resonated Exhaust System
A Downpipe-Back system that mates up with the factory downpipes, the Non-Resonated system is for those looking for a more aggressive head-turning sound, with all the same benefits as the more subtle Resonated System.
Highlights:
Hand-crafted, every detail of these exhausts was labored over to ensure maximum performance and longevity:
+ 8hp, +7tq at the crank

Increased pipe diameter to 2.5" to better let the engine exhale

Strategic elimination of mufflers to release tone when uncorked

Available with Polished Silver or Diamond Black adjustable tips

Engineered, developed, tested and manufactured in-house

Thick .065" wall T304 stainless steel tubing

High quality stainless steel band clamps

Stainless steel center muffler with OEM grade stainless steel wool and German composite packing material

Lifetime Warranty
Topped off with notable 4" inch slash cut tips, available in standard Polished Silver or our distinct Diamond Black plating. The tips sport engraved AWE Tuning logos and are double walled to ensure a mirror polish, even under hard usage.
Upgrading to downpipes later
Not sure if you want to do the full package yet? No worries. If you purchase a Downpipe-Back system alone, you have one full year from the date of Downpipe-Back system purchase to buy the complementing downpipes, for the price difference between the Downpipe-Back system alone and the package price (price at the time of downpipe purchase). This is for original owners only, and is valid through AWE Tuning directly or through any authorized AWE Tuning dealer, so long as proof of the original Downpipe-Back purchase can be provided.
Sound Perfection: AWE Tuning 180 Technology™
As exhaust gases exit the 3.2L engine and flow into an AWE Tuning 180 Technology™ equipped resonator, they pass through strategically located ports, and into reflection chambers. Sound waves, carried by these exhaust gasses, bounce off the walls of the reflection chambers. By controlling the size and location of the ports and the chambers, we also control when the sound waves exit the chambers. The specific timing of when the reflected sound waves re-join the main exhaust flow creates a one-hundred-and-eighty-degree out-of-phase sound wave that cancels out problematic frequencies. More on AWE Tuning 180 Technology™ in the tab above.