AWE Tuning 2.5L Performance Exhaust
Go Back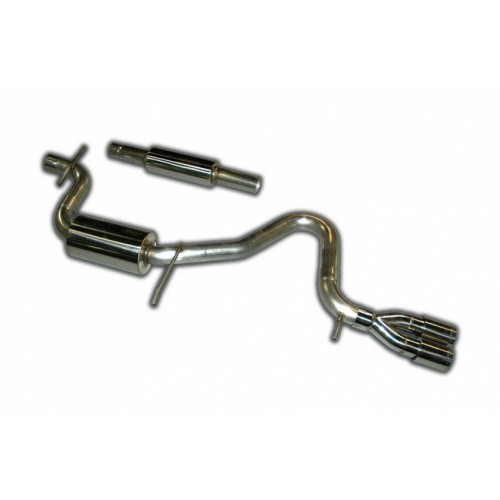 Product Information
Quite frankly, we were shocked at how exotic sounding the Jetta becomes with our performance catback exhaust system.
This is a straight forward and easy way to pick up 8hp at the crank, as well as giving your 2.5L a voice that turns heads.
There is no interior drone at any rpms, and interior and exterior sound volume is quite civilized.
Here are some features of our system. Each feature was chosen for performance and longevity reasons, and when making your exhaust decisions you should settle for nothing less:
Fully mandrel bent 2.5 inch diameter tubing
Thick .065" wall T304 stainless steel tubing
Stainless steel internal muffler and resonator construction
Stainless steel MIG and TIG welds
Stainless steel T-bolt clamps
Double walled exhaust tips to reduce heat discoloration
In house dyno developedDeep and Muscular Sound
All Stainless Steel
+8hp at the crank

The catback system is topped off with our signature 3.15" beveled exhaust tips. The tips sport precision stamped AWE Tuning logos and are double walled to ensure a mirror polish even under hard usage. The system has multiple slip joints with high quality t-bolt clamps, to allow optimal adjustment.