AWE Tuning 2.0T Track Edition Exhaust
Go Back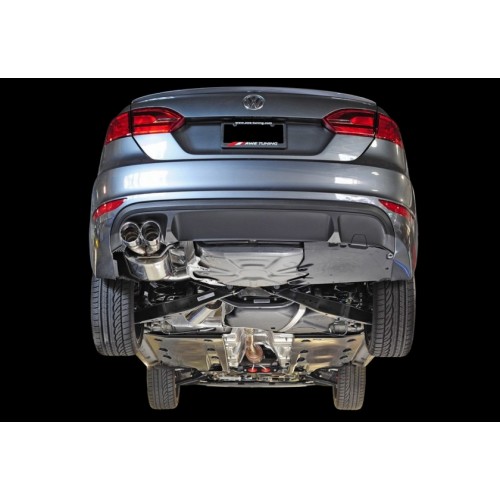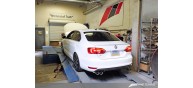 Product Information
Our exhausts have earned praise from owners and the press alike, due to their unique "Jekyll and Hyde" personality. We spend considerable time and effort during development to achieve remarkable civility when idling and cruising at part throttle, while also producing a war-cry wail when full throttle is applied. Sophisticated, refined, and powerful, all at once.
Turning good into great
The factory exhaust on the GLI consists of a long downpipe, with two catalytic converters, and two rather large mufflers in the section after the cats. We fixed that.
Highlights include:
Fully mandrel bent tubing

Available with Chrome Silver or Diamond Black Finishes

Thick .065" wall T304 stainless steel tubing

Fully lined stainless steel flex joint in downpipe

Stainless steel internal muffler and resonator construction

Stainless steel MIG and TIG welds

Stainless steel T-bolt clamps

Double walled exhaust tips to reduce heat discoloration

Included OEM turbo to downpipe gasket

In house dyno developed and tested

No CEL - Guaranteed
Track Edition
Similarly, The Mk6 Jetta GLI Track Edition Exhaust replaces the factory exhaust and includes a straight through resonator, but to allow a more aggressive exhaust tone, the Track Edition does not include the rear resonator.
Important fitment notes
Have a 2013 GLI? Be sure to check your engine code to ensure correct fitment on your vehicle. Certain engine types feature different downpipe fitments, so let's be sure this will fit yours.
Why did we choose 2.5 inch and not 3.0 inch diameter for our MK6 exhaust?
Our first 2.0T exhaust prototypes were indeed 3.0 inch, but we found that the effort it took to move the large mass of air in the 3.0 inch system at lower rpms resulted in a loss of torque with very little offsetting gain up top.
Please note that due to the use of high flow catalytic converters, our downpipe section is legal only for racing vehicles which may never be used upon a highway.