AWE Tuning 3.0T Track Edition Exhaust (90mm) for B8/B8.5 S4
Go Back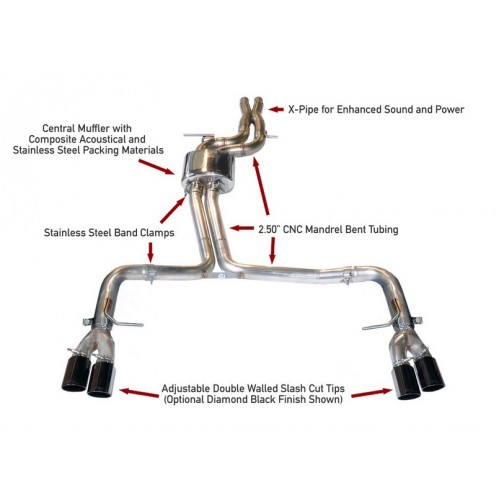 Product Information
Highlights of the S4 3.0T Track Edition Exhaust systems
Hand-crafted, every detail of these exhausts was labored over to ensure maximum performance and longevity:
+ 8hp, +9tq at the crank

Increased pipe diameter to 2.5" to better let the engine exhale

Available with Chrome Silver or Diamond Black individually adjustable tips

Engineered, developed, tested and manufactured in-house

Thick .065" wall T304 stainless steel tubing

Stainless steel TIG welds

High quality stainless steel band clamps

Optional Downpipes for fine tuning sound volume

Stainless steel center muffler with OEM-grade stainless steel wool and German composite packing material

Lifetime Warranty
Important Notes!
Given the removal of the rear-mufflers, this system cannot be returned due to sound.
S-Tronic owners beware: This system will be especially loud at part throttle.
About the downpipes
We offer our Resonated and Non-Resonated Downpipes.
Our Resonated Downpipes feature resonators larger than the stock units in order to produce a more mellow sound volume.

Our Non-Resonated Downpipes are suited for owners seeking the loudest we have to offer in the S4 line up.
Both our Resonated and Non-Resonated Downpipes feature larger than stock tubing diameter.
Downpipe + Exhaust packages offer the most cost-effective solution.
Read this, too
None of the components of our S4 exhaust system affect or alter any of the emissions devices on the vehicle, and therefore are legal for street use.
As with all AWE Tuning exhaust products, each TIG weld is hand finished internally, and flange openings are size matched to their ports, all to produce the smoothest flow possible. It is this intensive attention to detail that sets AWE Tuning exhaust products heads and shoulders above the rest.
Note: In limited cases, the factory downpipes have been known to emit minor rattling noises when paired with the AWE Tuning S4 exhaust system. The possibility of rattling is eliminated with the addition of AWE Tuning downpipes. AWE Tuning downpipes are package discounted when purchased with the exhaust, or if they are purchased within one year of an exhaust purchase.