AWE Tuning Touring Edition Exhaust
Go Back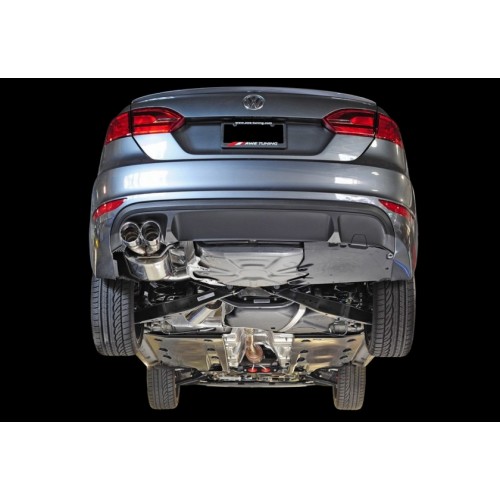 Product Information
*NOTE* This is for 2010-EARLY 2013, not for EA888 Engines.
Our exhausts have earned praise from owners and the press alike, due to their unique "Jekyll and Hyde" personality. We spend considerable time and effort during development to achieve remarkable civility when idling and cruising at part throttle, while also producing a war-cry wail when full throttle is applied. Sophisticated, refined, and powerful, all at once.
Turning good into great
The factory exhaust on the GLI consists of a long downpipe, with two catalytic converters, and two rather large mufflers in the section after the cats. We fixed that.
Highlights include:
Fully mandrel bent tubing

Available with Chrome Silver or Diamond Black Finishes

Thick .065" wall T304 stainless steel tubing

Stainless steel internal muffler and resonator construction

Stainless steel MIG and TIG welds

Stainless steel T-bolt clamps

Double walled exhaust tips to reduce heat discoloration

In house dyno developed and tested

No CEL - Guaranteed
Touring Edition
The Mk6 Jetta GLI Touring Edition Exhaust replaces the factory exhaust from the downpipe back, featuring a straight through resonator and AWE Tuning's 180 Technology™ in the rear muffler section.
Sound Perfection: AWE Tuning 180 Technology™
As exhaust gases exit the 2.0L Turbo engine and flow into an AWE Tuning 180 Technology™ equipped resonator, they pass through strategically located ports, and into reflection chambers. Sound waves, carried by these exhaust gasses, bounce off the walls of the reflection chambers. By controlling the size and location of the ports and the chambers, we also control when the sound waves exit the chambers. The specific timing of when the reflected sound waves re-join the main exhaust flow creates a one-hundred-and-eighty-degree out-of-phase sound wave that cancels out problematic frequencies. More on AWE Tuning 180 Technology™ in the tab above.
Why did we choose 2.5 inch and not 3.0 inch diameter for our MK6 exhaust?
Our first 2.0T exhaust prototypes were indeed 3.0 inch, but we found that the effort it took to move the large mass of air in the 3.0 inch system at lower rpms resulted in a loss of torque with very little offsetting gain up top.