AWE Tuning 4.2L Track Edition Exhaust System
Go Back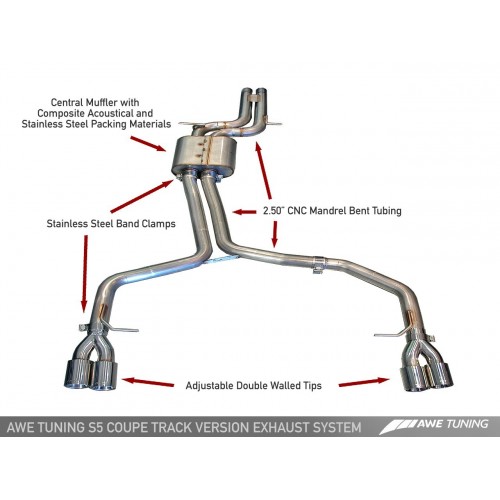 Product Information
Whether you're looking for the grabbing roar of our Track Edition or the more sophisticated tone of our Touring Edition, this family of Exhausts affords a solution for every discerning S5 owner.
The S5 Track Edition Exhaust is known for its powerful, raw V8 rumble. Still for the daily driver, this "noticeable" system lets them know you're coming.
And for S5 owners seeking an even more aggressive sound, we offer our Non-Resonated Downpipes. Our Non-Resonated Downpipes eliminate an additional set of resonators from the car, to produce a louder and deeper tone to the exhaust note.
Tiptronic? Go with the Touring Edition.
Highlights
Hand-crafted, every detail of these exhausts was labored over to ensure maximum performance and longevity:
+ 18hp, +12tq at the crank

Available with Polished Silver or Diamond Black adjustable tips

Increased pipe diameter to 2.5" to better let the engine exhale

Engineered, developed, tested and manufactured in-house

Stainless steel center muffler with composite acoustical and stainless steel packing materials

Strategic elimination of mufflers to release tone

Thick .065" wall T-304 stainless steel tubing

High quality stainless steel band clamps

Lifetime Warranty
Tips
Both versions of our S5 4.2L Exhaust System come with 90mm (3.5 inch) Slash Cut Tips, available in standard Polished Silver or our noted Diamond Black finishes. The tips sport engraved AWE Tuning logos and are double walled to ensure a mirror polish, even under hard usage. Each tip is individually adjustable, so stagger and depth into bumper can be set according to personal taste.