AWE Tuning 4.0T Touring Edition Exhaust
Go Back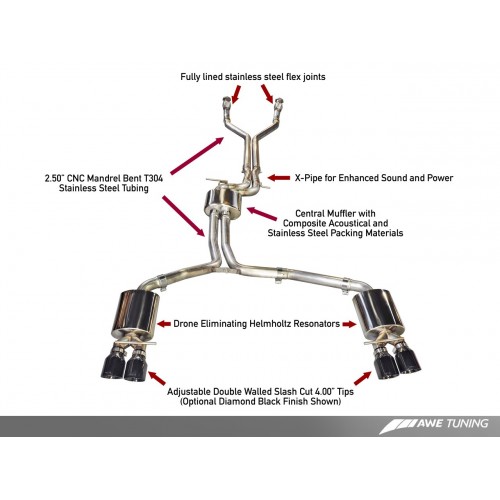 Product Information
AWE Tuning Research and Development has yielded an exhaust that is remarkably civil while idling/part throttle cruising, but unleashed at full throttle it produces what some have called a "war-cry wail." Our exhausts are like bespoke suits; each is hand-made utilizing only the finest materials, and they command respect while never losing composure. Just like the S7.
Highlights
Featuring AWE Tuning 180 Technology™

Crafted from mandrel bent T-304 Stainless Steel

Dyno proven peak gains of 18 horsepower and 6 ft-lb of torque at the crank

Engineered, developed, tested, and hand built in-house

Features a direct bolt on fitment that replaces the factory exhaust and downpipes

Includes Quad 102mm Diameter Tips

Fits seamlessly with the existing S7 rear valence

Lifetime Exhaust Warranty

Sound Perfection: AWE Tuning 180 Technology™
As exhaust gases exit the 4.0T engine and flow into an AWE Tuning 180 Technology™ equipped resonator, they pass through strategically located ports, and into reflection chambers. Sound waves, carried by these exhaust gasses, bounce off the walls of the reflection chambers. By controlling the size and location of the ports and the chambers, we also control when the sound waves exit the chambers. The specific timing of when the reflected sound waves re-join the main exhaust flow creates a one-hundred-and-eighty-degree out-of-phase sound wave that cancels out problematic frequencies. More on AWE Tuning 180 Technology™ in the tab above.
Finish it off
The AWE Tuning S7 Touring Edition Exhaust system is capped off with 102mm Diameter Quad Tips featuring the AWE Tuning logo. These tips are double walled to ensure mirror finish even under hard usage. Each tip is fully adjustable, so stagger and depth into the bumper can be set according to personal taste.
As with all AWE Tuning exhaust products, each TIG weld is hand finished internally and flange openings are sized matched to their ports, all to produce the smoothest flow possible. It is the intensive attention to detail that sets AWE Tuning exhaust products, pound for pound, above the rest.
The AWE Tuning S7 Touring Edition Exhaust includes all necessary hardware including hardware, aluminum collars, wrench, Accu-Seal and T-Bolt clamps. Our exhaust systems are award winning, hand built works of art and are what your S7 deserves.
Cancel it out: AWE Tuning Electronic Valve Simulators
Sound perfection comes standard thanks to AWE Tuning 180 Technology™. Which means there's no need for valves. But when these valves are eliminated, the ECU stores what is known as a 'soft code' in the system. While this code is not harmful, who wants it? Enter the AWE Tuning Electronic Valve Simulators.
These simple devices plug right into the factory harness in place of the exhaust valves, and prevent any code from ever being stored in the ECU due to the removal of the exhaust valves. Plug them in. Start it up. Drive away. That simple. Comes as a set of two.