AWE Tuning 2013.5+ 2.0T Touring Edition Exhaust System
Go Back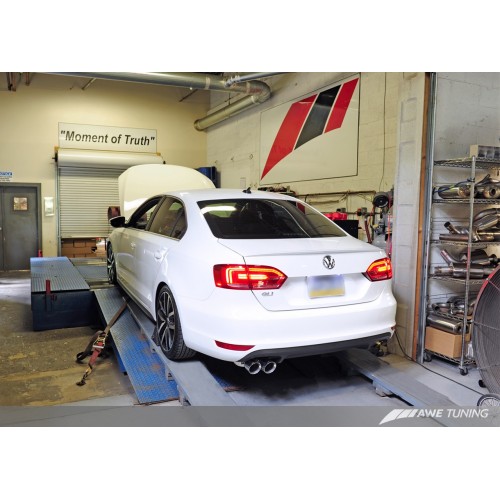 Product Information
The AWE Tuning GLI Exhaust and Downpipe program is one of a kind. Meticulously engineered around the GLI to ensure quality, fitment and tone beyond any other. And as if that's not enough, the AWE Tuning system – from end to end – offers our unprecedented No Check Engine Light Guarantee. This is a best-in-class system for your GLI.
The system is available with a number of configurations, ranging from Track to Touring, Cat Back to Turboback, with two tip options. No matter your preference, this GLI system will let them know you've arrived.
The AWE Tuning 2.0T Jetta GLI Touring Edition Exhaust
The Mk6 Jetta GLI Touring Edition Exhaust replaces the factory exhaust from the downpipe back, featuring a straight through resonator and AWE Tuning's 180 Technology™ in the rear muffler section.
Sound Perfection: AWE Tuning 180 Technology™
As exhaust gases exit the 2.0L Turbo engine and flow into an AWE Tuning 180 Technology™ equipped resonator, they pass through strategically located ports, and into reflection chambers. Sound waves, carried by these exhaust gasses, bounce off the walls of the reflection chambers. By controlling the size and location of the ports and the chambers, we also control when the sound waves exit the chambers. The specific timing of when the reflected sound waves re-join the main exhaust flow creates a one-hundred-and-eighty-degree out-of-phase sound wave that cancels out problematic frequencies. More on AWE Tuning 180 Technology™ in the tab above.
Tip options
Tip options are as follows - all of which include the AWE Tuning logo, and double walling to ensure a mirror finish even under hard usage.
90mm Slash Cut Diamond Black Tips

90mm Slash Cut Chrome Silver Tips
All tips are individually adjustable, so stagger and depth into bumper can be set according to personal taste.
No matter your set up, AWE Tuning Precision Welding comes standard
As with all AWE Tuning exhaust products, each weld is hand finished internally, only butt-welded junctions are used, and flange openings are size matched to their ports, all to produce the smoothest flow possible. It is this intensive attention to detail that sets AWE Tuning exhaust products heads and shoulders above the rest.
Our exhaust systems are hand built, are award winning works of art, and are what your Jetta GLI deserves.