AWE Tuning Touring Edition Exhaust
Go Back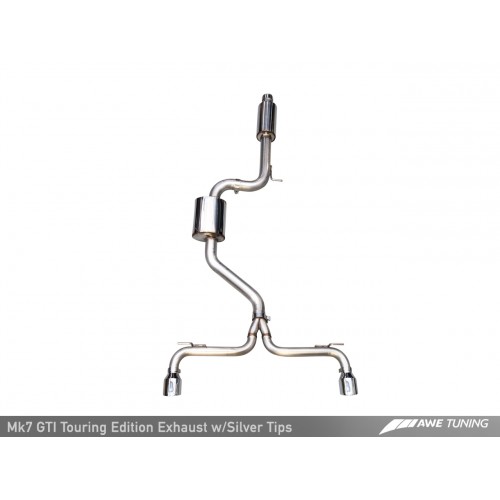 Product Information
Four Generations Strong.
Producing an exhaust system for Volkswagen's 7th generation GTI was no easy feat. Luckily we already have four generations of GTI under our belts.
Merging decades of experience with hundreds of hours of prototyping, engineering, dyno testing and daily usage evaluation has output an exhaust system that is the ultimate compliment to GTI lineage. With options to go around, this is AWE Tuning's finest GTI exhaust to date.

Simple. Better.
What may look like a simple design is actually one of our most comprehensive engineering feats to date. The exhaust is three simple parts, making it one of the easiest systems to install. The reconfiguration of the flex pipe on the Performance Downpipe ensures that stress goes where it should. And no spacers. And no exhaust paste needed. The list goes on. This exhaust offering is something special.
Mk7 Touring Edition Exhaust
The intersection of performance and sophistication, the Touring Edition produces a civil tone while idling and cruising around, but give it the boot and unleash a "war-cry wail."
Full 3" system, front to back.

Made from T304 Stainless Steel.

Dyno-developed, street proven on the AWE Tuning in-house MK7 GTI.

102mm dual tip configuration, Chrome Silver or Diamond Black.

Exhaust is three sections – making for the simplest install possible.

Straight through resonator and muffler.

Engineered, designed and manufactured in house at AWE Tuning.

AWE Tuning Lifetime Warranty.

AWE Tuning Fitment Guarantee.

AWE Tuning No CEL Guarantee.

Volume. Simplified.
Not sure which combination of AWE Tuning Mk7 GTI Products will meet your desired sound levels? This should help:
From civil to disobedient:
Touring Edition with factory downpipe.

Touring Edition with Performance Downpipe.

Touring Edition with Cat-Delete Performance Downpipe.

Track Edition with Performance Downpipe.

Track Edition with Cat-Delete Performance Downpipe.