AWE Tuning 3.0T Touring Edition Exhaust (102mm) for B8.5 S4
Go Back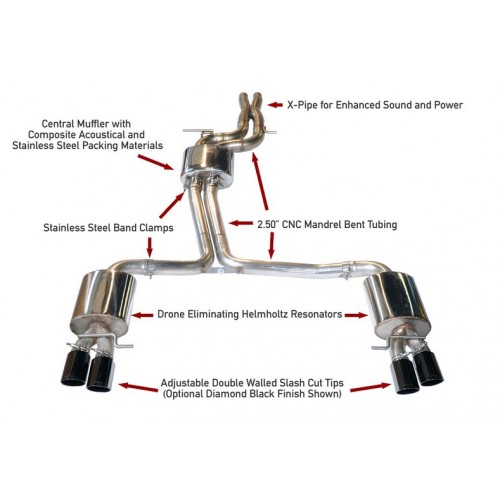 Product Information
Our 3.0T exhaust system represents the most comprehensive exhaust development project in our company history. The 3.0T systems have paved the way for future exhaust technologies that can now be found in most every AWE Tuning exhaust product. We have spent considerable time and effort during development to achieve remarkable civility when idling and at part throttle cruising, while also producing a war-cry wail when full throttle is applied. Hand made in house, these systems command respect while remaining sophisticated, refined, and powerful, all at once.
Highlights of the S4 3.0T Touring Edition System
Hand-crafted, every detail drives toward maximum performance, quality and perfect sound:
Featuring AWE Tuning 180 Technology™

+ 8hp, +9tq at the crank

Increased pipe diameter to 2.5" to better let the engine exhale

Strategic elimination of mufflers to release tone when uncorked

Available with Chrome Silver or Diamond Black adjustable tips, 90mm or 102mm

Engineered, developed, tested and manufactured in-house

Thick .065" wall T304 stainless steel tubing

Stainless steel TIG welds

High quality stainless steel band clamps

Stainless steel center muffler with OEM grade stainless steel wool and German composite packing material

Optional Downpipes for fine tuning sound volume

Lifetime Exhaust Warranty
Sound Perfection: AWE Tuning 180 Technology™
As exhaust gases exit the 3.0T engine and flow into an AWE Tuning 180 Technology™ equipped resonator, they pass through strategically located ports, and into reflection chambers. Sound waves, carried by these exhaust gasses, bounce off the walls of the reflection chambers. By controlling the size and location of the ports and the chambers, we also control when the sound waves exit the chambers. The specific timing of when the reflected sound waves re-join the main exhaust flow creates a one-hundred-and-eighty-degree out-of-phase sound wave that cancels out problematic frequencies. More on AWE Tuning 180 Technology™ in the tab above.
Tip options
Tip options are as follows - all of which include the AWE Tuning logo, and double walling to ensure a mirror finish even under hard usage.
90mm Slash Cut Diamond Black Tips

90mm Slash Cut Chrome SIlver Tips

102mm Slash Cut Diamond Black Tips

102mm Slash Cut Chrome Silver Tips
All tips are individually adjustable, so stagger and depth into bumper can be set according to personal taste.
About the downpipes
We offer our Resonated and Non-Resonated Downpipes. Our Resonated Downpipes (strongly recommended for S-tronic cars) feature resonators larger than the stock units in order to produce a mellow sound volume. Our optional Non-Resonated downpipes are suited for owners seeking a "loud" and aggressive sounding system. Both our Resonated and Non-Resonated Downpipes feature larger than stock tubing diameter.
Downpipe + exhaust packages offer the most cost-effective solution.