AWE Tuning Track Edition Exhaust
Go Back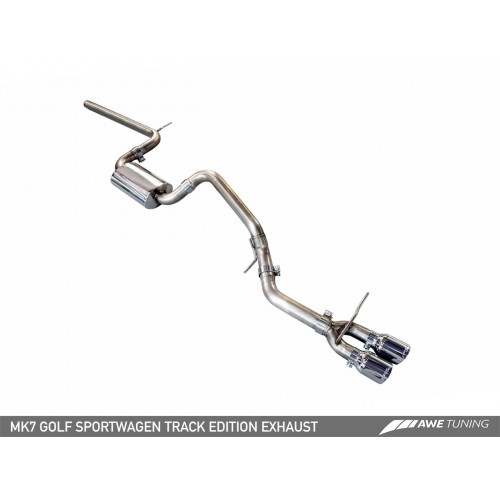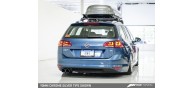 Product Information
Sophisticated sound and impressive performance. Ready for Volkswagen's latest SportWagen:
Max gains of 7 hp and 7 ft-lbs of torque to the crank

Engineered, designed, and manufactured in-house at AWE Tuning

Performance Downpipe with 200 cell high flow EURO 6 compliant HJS catalyst available

Hand crafted from 2.5" U.S.-sourced CNC mandrel-bent 0.65 wall T304 stainless steel

90mm double walled adjustable tips available in Chrome Silver or Diamond Black

Direct bolt-on

No Check Engine Light - Guaranteed

Perfect Fitment - Guaranteed

Featuring the AWE Tuning Lifetime Exhaust Warranty (one year on catalyst)
The Track Edition Exhaust
Featuring a straight-through design, the Track Edition Exhaust revamps the Mk7 Golf SportWagen's attitude entirely, providing a more pronounced, aggressive tone in the mid range by replacing the forward resonator with a straight pipe section.This product cannot be returned or exchanged based upon volume preference!
Performance Downpipe
To further hone the tone and performance of your Volkswagen Golf SportWagen 1.8T, we're offering a Performance Downpipe. Featuring a unique flex-pipe section to isolate engine movement, AWE Tuning's No Check Engine Light Guarantee, Fitment Guarantee, and our Lifetime Warranty on the downpipe (one year on the catalyst).
Cat-delete Performance Downpipe
Looking for an even more aggressive tone? The AWE Tuning Cat-Delete Performance Downpipe will do the trick. All of the bespoke engineering from the Performance Downpipe, minus the catalyst. Please note that due to the removal of the catalyst, the "No CEL Guarantee" is not applicable, and this product is not to be used on public roads. This product cannot be returned or exchanged based upon volume preference.
Tip Options:
All tip options include the AWE Tuning logo, and double walling to ensure a mirror finish even under hard usage. All tips are individually adjustable, allowing depth into the bumper to be set according to personal taste.
90mm Slash-cut Diamond Black tips

90mm Slash-cut Chrome Silver tips
What's in the Box:
Complete AWE Track Edition Exhaust, all necessary hardware (factory sleeve clamp to be re-used), and two 90mm slash-cut tips in chosen color.