AWE Tuning Exhaust Suite for W205
Go Back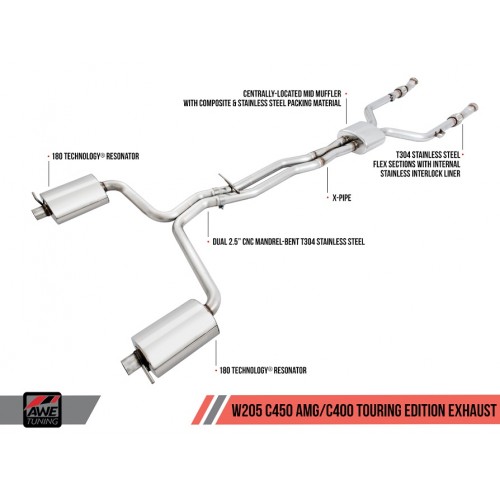 Product Information
All the sophistication of the 3.0L Turbo-equipped W205 C-Class, now with more rumble.
Fits the W205 AMG C43, C450 AMG, and C400

Max gains of 7 hp and 13 ft-lbs of torque to the crank

Sophisticated Touring Edition or the more unleashed Track Edition

Featuring AWE Tuning's proprietary 180 Technology® drone-canceling solution (Touring Edition)

Less is more: Clean, straight-through design maximizes performance

Engineered, designed, and manufactured in-house at AWE Tuning

Handcrafted, CNC mandrel-bent 2.5" U.S.-sourced T304 stainless steel

Direct bolt-on system for factory-like simplicity

No Check Engine Light - Guaranteed

Perfect Fitment - Guaranteed

Featuring the AWE Tuning Lifetime Exhaust Warranty
The Options
W205 C43 / C450 / C400 Touring Edition Exhaust
A bespoke exhaust designed specifically for 3.0L Turbo-equipped W205 C-Classes, the Touring Edition Exhaust features AWE Tuning's proprietary drone-cancellation solution, 180 Technology®, enabling the perfect tone, minus drone -- delivering the ultimate mix of performance and sophistication. A direct bolt-on, straight-through design, the Touring Edition Exhaust delivers a civil, smooth soundtrack throughout the range while providing an enhanced in-cabin driving experience.
Sound Perfection: AWE Tuning 180 Technology®
As exhaust gases exit the 3.0L Turbo engine and flow into an AWE Tuning 180 Technology® equipped resonator, they pass through strategically located ports, and into reflection chambers. Sound waves, carried by these exhaust gasses, bounce off the walls of the reflection chambers. By controlling the size and location of the ports and the chambers, we also control when the sound waves exit the chambers. The specific timing of when the reflected sound waves rejoin the main exhaust flow creates a one-hundred-and-eighty-degree out-of-phase sound wave that cancels out problematic frequencies. More on AWE Tuning 180 Technology® in the tab above.
It's sophisticated and disobedient, all in one clean package, thanks to 180 Technology®.
W205 C43 / C450 / C400 Track Edition Exhaust
If you're all about 100% rowdy 100% of the time, the Track Edition is for you. It's known to get raucous in the mid-range and could be a little much for many, and for that reason, this system can't be returned due to sound: so be ready, my friends!
The AWE Tuning W205 AMG C43 / C450 AMG / C400 Track Edition Exhaust takes the engineered design of the Touring Edition Exhaust and replaces the rear AWE Tuning 180 Technology® resonators with Track Edition straight pipe sections, delivering an even bigger dose of scream out of the suave sedan.
It's too loud! It's too quiet!
Don't worry. If you're looking to crank up a notch or bring it down, perfectly engineered upgrade paths are available. Turn your Touring Edition to a Track Edition, or vice versa, with ease. Simply unclamp the rear Touring or Track Edition sections and replace with the new configuration.
What's in the box?
Complete AWE Tuning Touring or Track Edition Exhaust and all required hardware. Factory tips to be re-used.