AWE Tuning SwitchPath Exhaust
Go Back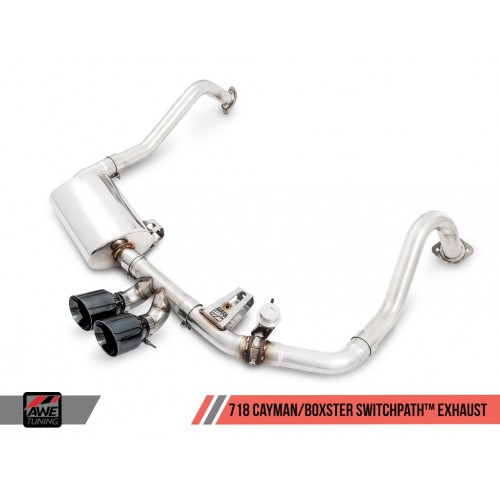 Product Information
Max gains of 9.5 hp @ 7200 rpm and 6 ft-lbs of torque starting @ 4370 rpm at the crank

Available as valved SwitchPath™ (retains factory PSE button operation)

102mm double-walled tips available in Chrome Silver or Diamond Black

2.5 lb weight savings over stock with complete

SwitchPath

Edition

Does not interfere with factory emissions equipment

Less is more: clean, straight-through design maximizes performance

Engineered, designed, and manufactured in-house at AWE Tuning

Handcrafted from U.S.-sourced CNC mandrel-bent 0.65" wall T304 stainless steel

Direct bolt-on system for factory-like simplicity and easy installation

No Check Engine Light - Guaranteed

Perfect Fitment - Guaranteed

Featuring the AWE Tuning Lifetime Exhaust Warranty
SwitchPath™ Exhaust (for cars equipped with PSE)
Have PSE and want to remain in control over your exhaust's tone at the press of the PSE button? Perfect. We created the SwitchPath™ Exhaust for the Boxster and Cayman to do just that, for drivers just like you.
Valve closed for sophistication, valve open for aggression. Sport mode? Yes please, extra burbles. Equipped with a tuned muffler on the driver's side and a valved straight section on the passenger's side, the SwitchPath™ Exhaust's soundtrack is pleasantly different dependent on its operating state. Drone-free mood control accompanied by addicting crackles and straight-through performance.
The SwitchPath™ Exhaust is only applicable to cars equipped with the PSE option.
Tip Options
All tip options include the AWE Tuning logo, and double walling to ensure a mirror finish even under hard usage. All tips are individually adjustable, allowing depth into the bumper to be set according to personal taste.
102mm slash-cut diamond black tips

102mm slash-cut chrome silver tips

96mm Carbon Fiber Tips
What's in the box?
Complete AWE Tuning exhaust, two tips in desired finish, all necessary clamps and hardware for installation, and installation instructions.