AWE Tuning SwitchPath Exhaust
Go Back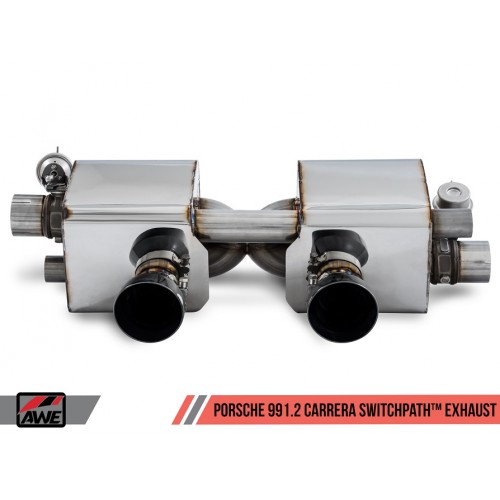 Product Information
Spool up with SwitchPath™
Max gains of 11 hp and 7 ft-lbs of torque at the crank (Carrera S)

Max gains of 14 hp and 17 ft-lbs of torque at the crank (Carrera base)

Featuring an X-pipe and true balance pipe

Retains factory PSE operation

Exhaust flow is continuously routed through integrated X-pipe, delivering a constant exotic tone regardless of valve position

Factory-matched valved and non-valved inlets

No muffler packing means the tone will not change over time

Fits S, GTS, and base 991.2 models equipped with PSE

Less is more: clean, straight-through design maximizing flow and performance

102mm double-walled tips available in chrome silver or diamond black

Engineered, designed, and manufactured in-house at AWE Tuning

Handcrafted from U.S.-sourced CNC mandrel-bent 0.065" wall T304L stainless steel

Precision TIG-welded

Direct bolt-on for factory-like simplicity

Perfect fitment - guaranteed

AWE Tuning No Check Engine Light Guarantee

Featuring the AWE Tuning Lifetime Warranty
The Options:
SwitchPath™ Exhaust:
Our most intricately-designed Porsche application to date, the AWE Tuning SwitchPath™ Exhaust for PSE-equipped 991.2 Carreras provides the perfect sophisticated soundtrack fit for the .2.
Comprised of an integrated x-pipe, balance tube, factory-matched valved and non-valved inlets, and two straight-through mufflers designed specifically for Porsche's new turbo-powered Carrera, the SwitchPath™ Exhaust proves to be the all-around solution while retaining factory PSE operation.
SwitchPath™ magic:
The SwitchPath™ Exhaust will respond to your driving style. Around town cruising is sophisticated and refined. Thanks to the 0.65" wall T304L stainless steel, and the integrated x-pipe and balance bar, the SwitchPath™ Exhaust provides a consistent, deep and refined exotic tone, even with the valves closed.
Once the ECU registers an elevated RPM and opens the valves, the tone produced from the SwitchPath™ ratchets up, increased turbo sound and feedback from downshifts included. And due to there being zero acoustical packing material within the mufflers, the soundtrack emitted from the SwitchPath™ Exhaust will not change over time.
Spool on.
Tip Options:
All tip options include the AWE Tuning logo, and double walling to ensure a mirror finish even under hard usage. All tips are individually adjustable, allowing depth into the bumper to be set according to personal taste.
102mm slash-cut diamond black tips

102mm slash-cut chrome silver tips
What's in the box?
Complete AWE Tuning SwitchPath™ Exhaust, two exhaust tips in desired finish, and all required installation hardware.