AWE Tuning Track Exhaust
Go Back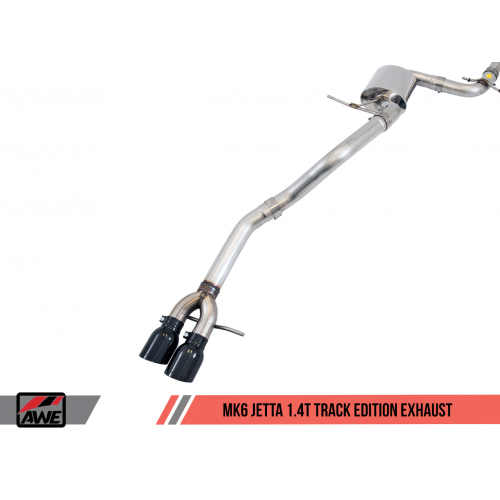 Product Information
AWE Tuning for Mk6 Jetta 1.4T Exhaust Suite Highlights:
Expected max gains of 7 hp and 7 ft-lbs of torque to the crank (as seen on Jetta 1.8T)

Engineered, designed, and manufactured in-house at AWE Tuning

Handcrafted from 2.5" U.S. sourced CNC mandrel-bent T304L stainless steel

90mm double-walled adjustable tips available in chrome silver or diamond black

Direct bolt-on for factory-like simplicity

Less is more: clean, straight-through design maximizes performance

Perfect fitment guaranteed

No Check Engine Light - Guaranteed

Featuring the AWE Tuning Lifetime Exhaust Warranty
The AWE Tuning Mk6 Jetta 1.4T Exhaust:
Track Edition
Featuring a straight-through design, the Track Edition Exhaust revamps the Jetta 1.4T attitude by replacing the rear 180 Technology® resonator with a straight pipe section, providing a more pronounced tone in the mid range without being boomy in the cabin. This product cannot be returned or exchanged based upon volume preference!
Sound Perfection: AWE Tuning 180 Technology®
Perfect tone, compliments of AWE Tuning 180 Technology®.
As exhaust gases exit the Jetta 1.4T's engine and flow into an AWE Tuning 180 Technology® equipped resonator, they pass through strategically located ports, and into reflection chambers. Sound waves, carried by these exhaust gasses, bounce off the walls of the reflection chambers. By controlling the size and location of the ports and the chambers, we also control when the sound waves exit the chambers. The specific timing of when the reflected sound waves rejoin the main exhaust flow creates a one-hundred-and-eighty-degree out-of-phase sound wave that cancels out problematic frequencies. More on AWE Tuning 180 Technology® in the tab above.
Tip Options
All tip options include the AWE Tuning logo, and double walling to ensure a mirror finish even under hard usage. All tips are individually adjustable, allowing depth into the bumper to be set according to personal taste.
90mm slash-cut diamond black tips

90mm slash-cut chrome silver tips
What's in the box?
Complete AWE Tuning Track Edition Exhaust, all necessary hardware (factory sleeve clamp to be re-used), and two 90mm slash-cut tips in chosen color.