AWE Tuning Sportback Track Edition Exhaust
Go Back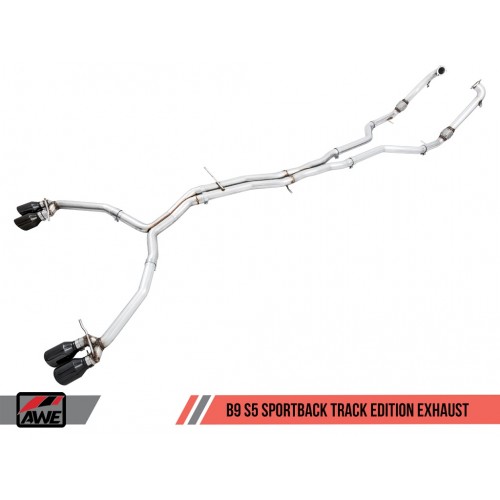 Product Information
Proudly engineered, designed, and manufactured in-house at AWE, in the USA

Featuring a mid-merge engineered specifically for acoustical needs of the B9 S5 Sportback

Max gains of 16 hp and 17 ft-lbs of torque at the crank

Non-resonated downpipes and precision-engineered x-pipe included in all editions

Compatible with standard and sport differentials

90mm or 102mm double-walled tips available in chrome silver or diamond black

Less is more: clean, straight-through design maximizes performance

Handcrafted from dual 2.5" CNC mandrel-bent U.S.-sourced .065" wall T304L stainless steel

Direct bolt-on system, factory-like install simplicity

Perfect fitment - guaranteed

No Check Engine Light - guaranteed

Featuring the AWE Lifetime Exhaust Warranty
Track Edition Exhaust
For those who like it loud, go Track.
The Track Edition Exhaust is equipped with the same precision-engineering as its Touring Edition and SwitchPath counterparts, minus the 180 Technology® resonators or valve mufflers in the rear. Instead, the Track Edition comes with non-resonated downpipes and straight pipe sections. The precision-engineered x-pipe and Sportback-specific mid merge are the only filters.
This version is known to get rowdy, and may be too much for many. For that reason, this particular version cannot be returned due to sound preference. Prepare yourself.
The Mid Merge
The Sportback introduced new in-cabin accoustic behavior and undercar packaging that wasn't found on the other members of the B9 trio. In order to produce a signature AWE tone out of the 3.0T-powered S5 Sportback while engineering around the unique undercarriage, the mid merge was born. Deployment of the mid merge allows the Sportback configurations to exist without any of resonators, thus ensuring the full, sophisticated howl of the 3.0T engine will never change over time.
Tip Options
All tip options include the AWE logo, and double-walling to ensure a mirror finish even under hard usage. All tips are individually adjustable, allowing depth into the bumper to be set according to personal taste.
102mm or 90mm diamond black tips

102mm or 90mm chrome silver tips

96mm Carbon Fiber tips