AWE Track Cat Back Exhaust for MK7.5
Go Back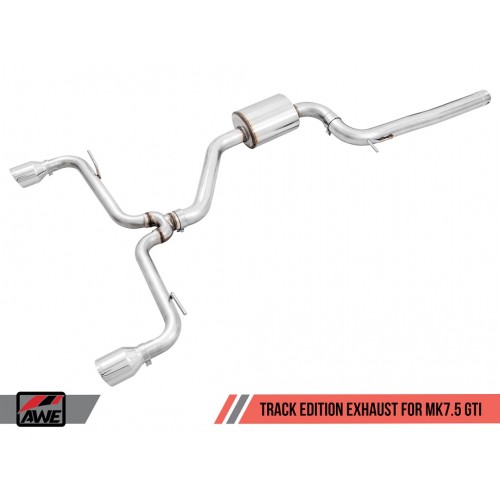 Product Information
Four and a half generations strong. Presenting the perfected AWE Exhaust for the VW Mk7.5 GTI:
Max gains of 21 hp and 24 ft-lbs of torque at the crank without software (full turboback)

Handcrafted from CNC mandrel-bent 3" and 2.25" U.S.-sourced .065" wall T304L stainless steel

Direct bolt-on for factory-like simplicity

Proudly engineered, designed and manufactured in-house at AWE

102mm double-walled tips available in chrome silver or diamond black

Less is more: clean, straight-through design maximizes performance

Easily convert from Track Edition to Touring Edition, or vice versa

Dyno-developed and street-proven on the in-house AWE MK7 GTI

Perfect fitment, guaranteed

AWE Lifetime Warranty
Track Edition Exhaust:
For those who want to turn it up to 11, go Track.
The Track Edition retaining the same precision engineering as its Touring Edition counterpart, minus the resonated mid pipe. Instead, the Track Edition comes complete with a non-resonated mid pipe, leaving the mid muffler as the only filter.
This version is known to get rowdy, and may be too much for many. For that reason, this particular version cannot be returned due to sound preference. Prepare yourself.
Convert from Track to Touring, or vice versa:
We made it easy to convert from a Track Edition to a Touring Edition, or vice versa, if you decide at a later date to turn it up, or turn it down.
Volume simplified:
Not sure which combination AWE configuration will meet your desired sound levels? This should help:
From civil to disobedient:
Track Edition with factory downpipe

Track Edition with Performance Downpipe