AWE Tuning Track Exhaust for RS3
Go Back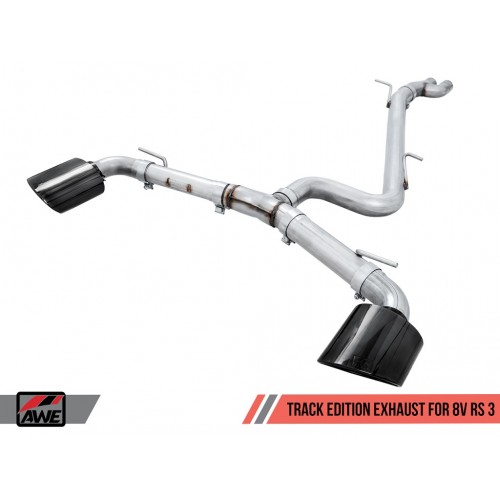 Product Information
Five-cylinder fury. Presenting the AWE Exhaust Suite for the Audi 8V RS 3:
Proudly designed, engineered, and manufactured in-house at AWE

Peak gains of 35 hp & 9 ft-lbs, max gains of 45 hp & 40 ft-lbs at the crank (Mid Pipes & SwitchPath Exhaust)

Diamond black 180mm RS-style tips come standard

Weight savings of 13 lbs over stock (AWE Performance Mid Pipes and SwitchPath™ Exhaust)

Handcrafted from CNC mandrel-bent 3" and 2.5" U.S.-sourced .065" wall T304L stainless steel

Direct bolt-on for factory-like simplicity

Less is more: clean, straight-through design maximizes performance

Perfect fitment, guaranteed

Features the AWE No CEL Guarantee

Lifetime warranty (one year on tip finish)
Track Editon Exhaust
The Track Edition takes all of the precision engineering and performance of its SwitchPath™ counterpart, minus the valve on the passenger's side. The result is a constant "valve open" mode. If you're craving rich 5-cylinder tone at all times, this is your dose of steel.
Tip Options
AWE SwitchPath™ and Track Edition come standard with diamond black 180mm RS-style oval tips, complete with stamped AWE logo.