AWE Tuning Touring Exhaust for B9 RS5
Go Back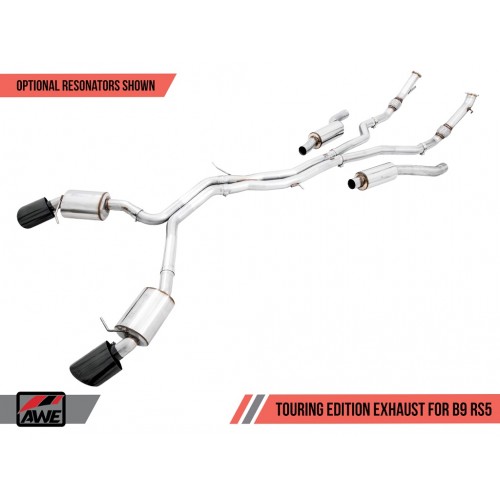 Product Information
The newfound howl. Presenting the AWE Exhaust Suite for the B9 RS 5.
Proudly engineered, designed, and manufactured in-house, in the USA

Featuring AWE's proprietary drone-canceling solution on Touring Edition, 180 Technology®

Max gains 8 hp and 20 ft-lbs of torque at the wheels (catback + piggyback tuner)

Max gains of 5 hp and 15 ft-lbs of torque at the wheels (turbo-back + stock software)

Available as sophisticated Touring Edition

Handcrafted from dual 3" U.S.-sourced CNC mandrel-bent .065" wall T304L stainless steel

Downpipes and precision-engineered x-pipe included in all editions

Direct bolt-on cat-back system for factory-like simplicity

Resonated catabacks available for use with Performance Catalysts

180mm RS-style tips come standard

Less is more: clean, straight-through design maximizes performance

Perfect fitment, guaranteed

AWE No CEL Guarantee

Lifetime warranty (one year on tip finishes)
Touring Edition
A true, dual 3" T304L stainless steel configuration featuring a precision engineered x-pipe specific for the RS5's 2.9TT, and topped off with AWE's proprietary drone-canceling solution, 180 Technology®. The result is a menacing, aggressive soundtrack throughout the range with a drone-free cabin experience under cruising conditions. RS 5 owners, this is the double-edged sword you've been waiting for.
Sound Perfection: 180 Technology® by AWE
As exhaust gases exit the RS 5s' 2.9L engine and flow into an AWE 180 Technology® equipped resonator, they pass through strategically located ports, and into reflection chambers. Sound waves, carried by these exhaust gasses, bounce off the walls of the reflection chambers. By controlling the size and location of the ports and the chambers, we also control when the sound waves exit the chambers. The specific timing of when the reflected sound waves rejoin the main exhaust flow creates a one-hundred-and-eighty-degree out-of-phase sound wave that cancels out problematic frequencies. Call it science, call it magic, or call it 180 Technology® by AWE. More in the tab above.
Please note: exhausts labeled "Resonated for Performance Catalysts " and the Resonator Conversion Kit are recommended to be used with the Performance Catalysts, but not required. However, Performance Catalysts may not be returned (absent manufacturer defect under normal warranty guidelines) if they're being run without the recommended exhaust configurations.
Tip options:
AWE Touring Editions come standard with diamond black 180mm RS-style oval tips, complete with stamped AWE logo.
What's in the box?
Complete AWE Touring Edition Exhaust, two RS-style oval tips, and all required hardware for installation.