AWE Tuning Track Exhaust for B9 RS5
Go Back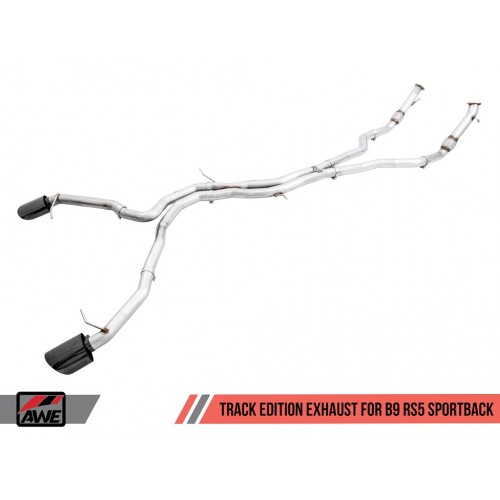 Product Information
The newfound howl. Presenting the AWE Exhaust Suite for the B9 RS 5.
Proudly engineered, designed, and manufactured in-house, in the USA

Max gains 8 hp and 20 ft-lbs of torque at the wheels (catback + piggyback tuner)

Max gains of 5 hp and 15 ft-lbs of torque at the wheels (turbo-back + stock software)

Available as sophisticated unleashed Track Edition

Handcrafted from dual 3" U.S.-sourced CNC mandrel-bent .065" wall T304L stainless steel

Downpipes and precision-engineered x-pipe included in all editions

Direct bolt-on cat-back system for factory-like simplicity

Resonated catabacks available for use with Performance Catalysts

180mm RS-style tips come standard

Less is more: clean, straight-through design maximizes performance

Perfect fitment, guaranteed

AWE No CEL Guarantee

Lifetime warranty (one year on tip finishes)
Track Edition
If raw and rowdy are your speed, the Track Edition is your dose of steel. The Track Edition Exhaust retains all the precision engineering of the Touring Edition Exhaust, including the X-pipe and 3" diameter tubing, minus the 180 Technology®.
Please note: this version is known to get rowdy in the mid-range and during cruising speeds, and may be too much for many. For that reason, this particular versions cannot be returned due to sound preference. Prepare yourself.
Please note: exhausts labeled "Resonated for Performance Catalysts " and the Resonator Conversion Kit are recommended to be used with the Performance Catalysts, but not required. However, Performance Catalysts may not be returned (absent manufacturer defect under normal warranty guidelines) if they're being run without the recommended exhaust configurations.
Tip options:
AWE and Track Editions come standard with diamond black 180mm RS-style oval tips, complete with stamped AWE logo.
What's in the box?
Complete AWE Track Edition Exhaust, two RS-style oval tips, and all required hardware for installation.