CTS Turbo AWD Downpipe
Go Back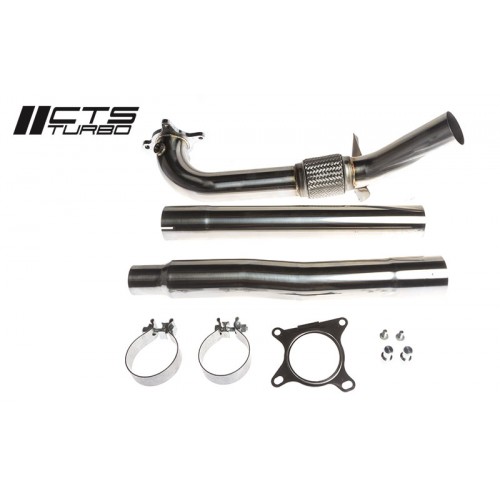 Product Information
Each CTS Golf R downpipe is 100% tig welded, constructed using 3" T304 Seamless Stainless Steel, and includes installation hardware and stainless steel clamps. Lesser products can be had without stainless steel construction, or with seamed stainless steel, which can crack and decay over time. The CTS Turbo for the Golf R downpipe eliminates the factory downpipe, increases turbo spool up, and peak power. The increased piping diameter of 3" allows for exhaust gases to exit the turbo and wastegate with less turbulence which all result in more power and torque throughout the entire powerband. In any turbo vehicle an upgraded downpipe is a great idea, but as the Golf R is factory equipped with the powerful K04 turbocharger it is a particularly potent power adding modification.

Precision fabrication, unparalleled quality and and great price point all make the CTS Golf R 2.0T Downpipe a must have for any VW enthusiast that values performance and their pocketbook.

Product Details:
T304 Seamless Stainless Steel tubing
T304 Stainless Steel flanges
100% TIG Welded
T304 Stainless Steel 02 bungs
Stainless Steel Clamps
Great Sound
To remove the CEL that will occur, proper tuning software must be used.
Brand:
CTS Turbo
Product Code:
CTS-EXH-DP-0003-cat