CTS Turbo 2.0T Catback Exhaust
Go Back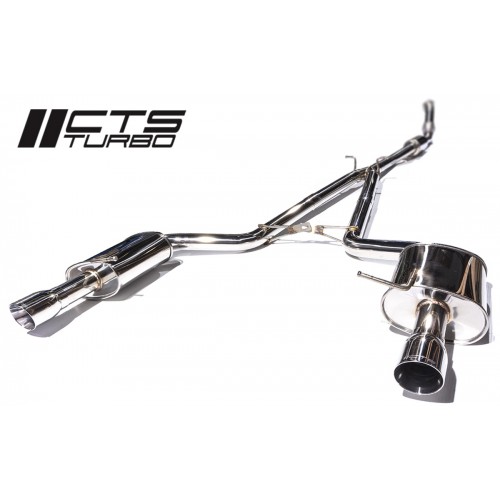 Product Information
CTS Turbo has been dedicated to manufacturing performance parts for enthusiasts by enthusiasts since its inception. Our continued development of the B6 A4 platform is not limitted to FMIC kits or Turbo kits, our all new catback exhaust system is evidence of that. The CTS Turbo B6 A4 catback exhaust system is hand tig welded using the finest T304 stainless steel.
Each CTS B6 A4 catback is 100% tig welded, constructed using T304 Seamless Stainless Steel, and includes installation hardware and stainless steel clamps. Lesser products can be had without stainless steel construction, or with seamed stainless steel, which can crack and decay over time. The CTS Turbo B6 A4 increases turbo spool up, and peak power.
The downpipe is constructed using 2.5in T304 Stainless steel. It will bolt up directly to the OEM catalytic converter, aftermarket high flow cats or our test pipe.
Product Details:
- True Stainless steel catback exhaust
- Aggressive sound under hard driving, but subtle when cruising
- Water jet cut flanges
- CNC mandrel bent stainless steel piping
- Polished stainless steel exhaust tubing
- 3" stainless steel exhaust tips
- Fits manual transmission Quattro cars only (will not fit Automatic or FWD cars)
Brand:
CTS Turbo
Product Code:
CTS-EXH-CB-0011-B6