CTS Turbo Intake
Go Back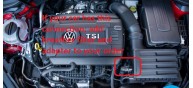 Product Information
At CTS Turbo we are proud to announce our new air intake system for the 8V Audi S3/A3 is ready!
The OEM air scoop works in conjunction with our sealed airbox to seamlesly force cold air into our air intake system. Air then flows through our 3.5" high flow air filter, which utilizes an inverted cone design for maximum engine breathing. Our 3.5" CNC mandrel bent aluminum intake pipe allows for smooth entry of cold air directly into the the engine, minimizing turbulence from unnecessary connections. All of the components included in the CTS air intake system work flawlessly together to provide increased horsepower and torque throughout the entire power band and an aggressive race inspired sound.
NOTE: If you have 8V Audi A3 you will require the SAI breather adapter and filter. Please confirm on vehicle before ordering and choose your vehicle from drop-down menu.
Only for vehicles WITHOUT Mass Air Flow Sensor. Please confirm on the vehicle or send us a photo of your engine.
Peak power gains range from 10-15HP on an otherwise stock vehicle. We recommend disabling your Soundaktor (noise amplifier) to fully enjoy the true sound of your motor and remove excessive drone caused by the device.
Product Details:
- Mandrel bent large bore 3.5" aluminum piping with black powder coating
- Coveted Laser etched //CTS Turbo logo
- 3.5" Reusable air filter with inverted cone design
- 4 Ply silicon connectors with stainless steel clamps
- Sealed air box
- Bracketry to prevent rattling under engine torquing
- Billet SAI breather adapter and filter (Optional in drop down menu)
Check out the video for sound clips!