RENNtech V3 Digital Suspension Lowering Module
Go Back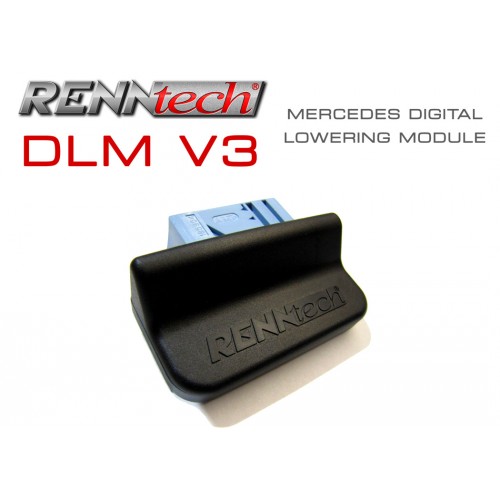 Product Information
The RENNtech V3 Digital Lowering Module (DLM) is designed to work with all available Mercedes Airmatic or ABC (Hydraulic) Suspensions.The unit allows the user to have full control over all four corners of the vehicle's suspension and adjust in 1mm increments.
The DLM requires no splicing or soldering to the factory wiring harness. The RENNtech harness utilizes the factory pins as to allow a completely reversible installation.
The unit also supports speed-dependant lowering that allows the vehicle to return to its factory ride-height at a pre-set speed. This removes the need for the vehicle to be aligned after lowering. The user can maintain the factory longevity and still have the lowered look at low speeds!
All RENNtech DLMs are adjustable via USB using either Windows or Android OS.The software allows the user to adjust the ride-height at each corner in 1mm increments independently.The software also has three locations where the user can store pre-configured suspension setups for quick changes.
RENNtech VAG V3.5 DLM Module Specifications:
Current Consumption: 30mA (60mA while plugged in to PC/Tablet)

Adjustment increments: 1mm

Maximum Lowering: Limited only by vehicle

Adjustment Methods: PC or Android (Tablet)

Size: 53mm x 73mm x 24mm

Weight: 1.2oz
RENNtech V3 Digital Suspension Lowering Module Software Download (ALL):
Brand:
RENNtech
Product Code:
32.221.1001