Milltek Turbo V8 Cat-back for F10 M5
Go Back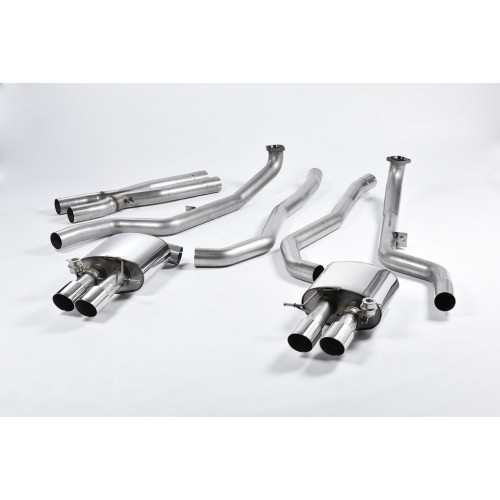 Product Information
Milltek Sport has announced the release of its hand-finished performance exhaust system for the F10 variant of BMW's tarmac-ripping M5.
As one of the most capable of super-saloons, the M5 is bought by many petrolheads that seek near-supercar levels of performance in a package that can be used every day. Fulfilling its brief perfectly, the M5 is a hard car to fault, but for the many owners that wish to add a little aural excitement into their daily commute – not to mention some welcome extra power and torque, this latest Milltek system will be the ideal enhancement.
Milltek's R&D team took an innovative approach when designing this system, following hours and miles of dyno and flow testing. The stock BMW exhaust system uses an 80mm diameter in most places, but features many 'pinch points' throughout its course, all of which dramatically restrict gasflow. Using the latest CAD analysis, Milltek engineers discovered that dropping the entire system to 76mm, but using precision CNC mandrel bends to maintain a precisely consistent diameter, flow rates – and therefore power – could be improved throughout the rev-range.
This isn't the only bit of smart thinking from Milltek, however. By using the OEM BMW vacuum control valves, which integrate perfectly with this new exhaust, full factory functionality can be retained, including the dash-switching operation between exhaust modes. The result is a car that can purr quietly and discreetly to work in the morning, yet create a racecar soundtrack with pops, crackles and over-run burbles on the way home. On a car like the M5, which needs to be many things to many people, it's the ideal compromise.
As with all Milltek systems, quality is the watchword throughout. Aerospace-grade, non-magnetic stainless steel is used for the entire system, with hand-finished welds and precision jigged construction. The result is an exhaust that fits as per OEM, but with a longevity and soundtrack that are anything but.
The system is also awaiting full EC-approval so meets or exceeds all requirements for sale in those countries which require TÜV or similar Type-approval.
The quad GT90 tips are available in either polished, brushed Titanium or Cerakote black.
Brand:
Milltek
Product Code:
SSXBM1016