Milltek Cooper Downpipe for F56
Go Back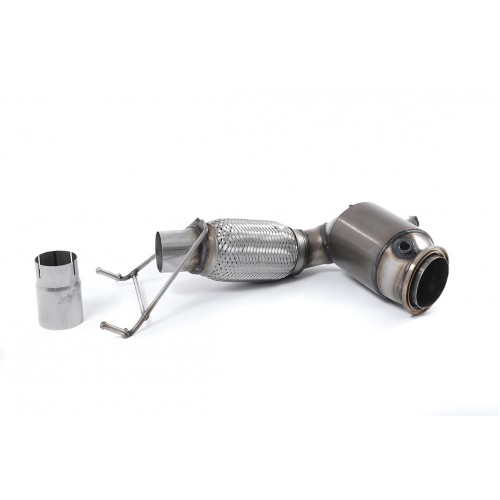 Product Information
Requires a stage 2 ECU remap
Despite being a relatively new sight in showrooms, respected exhaust manufacturer Milltek has released an exciting new range of exhaust options for the latest tuner's favourite; the new 1.5 F56 Mini Cooper S. As one of the world's most experienced and accomplished exhaust manufacturers, Milltek Sport has huge experience in gaining the best sound and power improvements from the Mini and has used them to great effect in this system.
As usual, Milltek Sport was one of the first tuners in the UK to gain access to the F56 upon its launch, quickly adding one to its development list. That fact, combined with the company's vast knowledge of all new Mini powerplants (having had each incarnation of the new Mini through its R&D workshops), has paid huge dividends. The design of the F56 exhaust offers superb power and torque gains, with a thoroughly 'grown-up' soundtrack across the entire rev range.
Milltek's engineers quickly identified that exhaust tuning is critical on the Mini, due to the design of the punchy 1.5 litre engine and the characteristics of the turbocharger and factory mapping. With these two factors playing a major part in the design process, they were keen to lower gas temperatures and optimise back pressure without inducing the 'rasp' that so easily occurs when tuning engines of this design. Needless to say, they managed it beautifully and the result is a note that exudes purpose, without droning or annoying at cruising speeds. Milltek's designers were also careful to optimise the exhaust soundtrack when switched into 'Sport Mode'. Here, the new system has been optimised to deliver a superb soundtrack with a wonderful note and tone, with pops and bangs on the over-run. Switch it off however and the car returns to a meeker, slightly sportier version of its original self.
The system itself is available from the factory catalyst back and is based around a 2.75" (70mm) non-magnetic stainless-steel construction. After this, owners can opt for either a centre silencer (resonated) or centre silencer replacement pipe (non-resonated), depending on the exact note they wish to achieve. The tailpipes feature hand-finished GT90 trims in either Polished or Cerakote Black finishes. Each one suits the Cooper's valance perfectly.
Manufactured in Milltek's Derbyshire factory, mandrel bending ensures a perfectly even diameter throughout and fitment that apes the OE system to make for a perfect fitment that will work – and last – forever.
Brand:
Milltek
Product Code:
SSXM418