Unitronic Stage 2 IS20 Software for Gen 3 MQB 1.8TSI
Go Back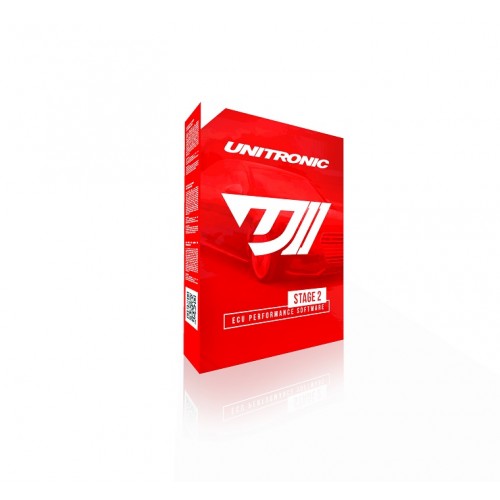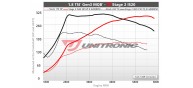 Product Information
ECU Stage 2 IS20 Software
Stock Power : 170HP / 185LB-TQ Unitronic Stage 2 : 310HP / 310LB-TQ
93 OCTANE / 98 RON GAS
HP +131 TORQUE +125
Performance Software Precisely Engineered for a completely stock car. May not be available for all ECU IDs. Specifically, many 2016+ models.
Installation
Flashed directly through the (OBDII) Diagnostic port of your vehicle (10-15 minutes).
UniCONNECT+
This vehicle has added support through UniCONNECT+ which allows you to program your own vehicle right in your own garage. Learn More
Features
Engineered with Strict Industry Standards:
With over 10 years of experience in Bosch and Siemens engine management calibration, Unitronic is able to utilized its industry leading tools and equipment to assure a calibration

Extensively Tested Under Various Driving Conditions:
Development begins using its in-house engine dyno housed in an environmentally controlled cell; closely monitoring a plethora of operational data, utilizing industry leading calibration tools and resources. Additional validation and results comparison are completed using its in-house Maha Chassis dyno as a second step of product development. Beta calibrations are then tested in race and street scenarios, using multiple cars throughout the world under various driving conditions. This engine calibration strategy ensures Unitronic Performance Software delivers maximum performance, OEM-like drivability and reliability anywhere in the world. Unitronic Performance Software is only released to its Clients once development is thoroughly completed in accordance to Unitronic's strict standards.

Factory Safety Limiters Retained:
OEM "fail safes" are retained within the ECU calibration. Close monitoring of all operation parameters ensures that engine operation stays within factory components limits, resulting in an OEM-like drivability and reliability.

Engine Temperature Protection (Rev Limit based on Engine Coolant Temperature):
Engine speed limit protection active under warm-up to prevent potential damage when coolant temperature is not within operation range.

Optimized Responsiveness and Drivability:
Professionally calibrated to improve engine response and reduce drive-by-wire lag. Optimized torque curve for more low end torque and faster turbo spool.

Optimized Smoothness and Driving Comfort:
Due to the large flat torque curve, the calibration offers a smooth operation under normal and hard acceleration. This results in linear acceleration with constant torque without low end torque peak that will cause loss of traction and uncontrollable power surge, at the expense of high engine speed power.

Optimized Maximum Output:
Unitronic development team delivers the maximum power output while staying within the operational limits of the factory components used. Specifically, this results in the highest engine performance without sacrificing the reliability of the engine, turbocharger, or other engine components.

Power Delivery Perfectly Optimized Throughout the Power Band:
Aligned with the OEM strategy, the calibration is designed to offer a large flat torque plateau to provide a smooth and linear power band. Maximum torque output is achieved sooner and maintained longer which creates a broader torque plateau and greater area under the curve. This results in an improved acceleration and optimal engine operation.

Improved Fuel Efficiency:
Optimized timing and injection under cruising condition for an improved fuel efficiency.

Speed Governor Removed:
Vehicle speed limiter within ECU is removed. (If automatic, subject to transmission rotational speed limit)

Ignition Timing Precisely Calibrated for Higher Octane Fuel:
Engine calibration optimized to take advantage of higher fuel quality to extract maximum energy from the combustion. Therefore, when using a higher octane fuel, more power and better fuel efficiency will be achieved.

Stage 2 Optimized Low End Torque:
Unitronic's Stage 2 Performance Software Calibration offers an improved low end torque curve over Stage 1+ due to back pressure relief from Unitronic's Performance Downpipe. Power peak increase is minimal due to turbo maximum efficiency already reached with previous stages.

Catalytic Converter DTC Fix:
Unitronic's Stage 2 Performance Software Calibration offers a precisely recalibrated catalytic converter efficiency map to allow a high flow or cat-less downpipe installation without triggering a catalytic converter below efficiency code (P0430) normally presented after installing aftermarket downpipes. (Be sure to check local/state emissions laws to determine compliance prior to purchase our performance software)
OEM IS20 Turbo Upgrade Calibration:
With maximum turbocharger efficiency reached with Stage 1, Stage 1+ and Stage 2, Unitronic developed a unique solution to bridge the gap between Stage 2 and Stage 2+ (IS38) turbo upgrade. This results in the use of a factory IHI IS20 turbocharger, from a MK7 GTI, as a complete bolt-on solution producing a power increase of 44hp and 19lb-ft tq over the Stage 2 output, using the OEM turbocharger (IS12).
Required Hardware
IS20 Turbo Upgrade (GTI/A3 2.0 TSI)

*Unitronic cannot guarantee results for Clients using third-party hardware and results may vary as a result. Post-sale technical support can not be provided by Unitronic or its affiliates for Clients using third-party hardware.
Brand:
Unitronic
Product Code:
UNISTG2IS20_MQB18TSI