Unitronic 3.0T Dual Pulley Upgrade kit
Go Back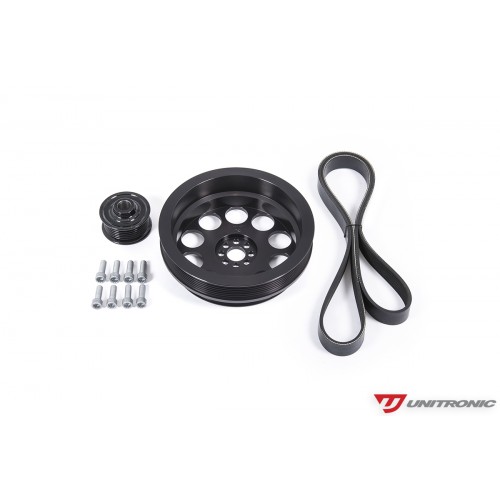 Product Information
Featuring an impressive increase to 493 HP/441 lb-ft of torque, Unitronic's Stage 3 Crank Pulley Upgrade Kit includes its 187 mm Crank Pulley, 7PK1300 Belt, and most importantly, its Stage 3 Dual Pulley Performance Software calibration.
This can be purchased as an Upgrade Kit for users who already have Unitronic's Stage 1/1+ Performance Software or Stage 2+ Supercharger Drive Pulley Kit or it can be purchased as a complete kit with the Supercharger Drive Pulley.

Unitronic's Stage 3 Dual Pulley Performance Software calibration is engineered specifically for use with both its Supercharger Drive and Crank Pulleys to ensure maximum performance is achieved while maintaining complete OEM-like reliability and drivability.
Includes Stage 3 Software
Features / Benefits
187 mm Crank Pulley:
Optimized pulley size for maximum performance.

6061-T6 Aluminum Construction:
Durable, rust proof and laser cut.

Black Anodized Finish:
Black anodized finish for the best possible look.

TDC marking for easy install:
Easily align your new crank pulley for a trouble-free install.

7PK1300 Belt:
High-Quality belt that perfectly fits your Unitronic Dual Pulley Upgrade Kit.

Genuine Audi Crankshaft Bolts:
High-Quality OEM bolts for a perfect fit everytime.
Hardware Included
Unitronic 187 mm Crank Pulley

Unitronic Supercharger Pulley

Genuine Audi Crankshaft Bolts