Unitronic Charge Pipe Upgrade Kit for 1.8/2.0T MQB
Go Back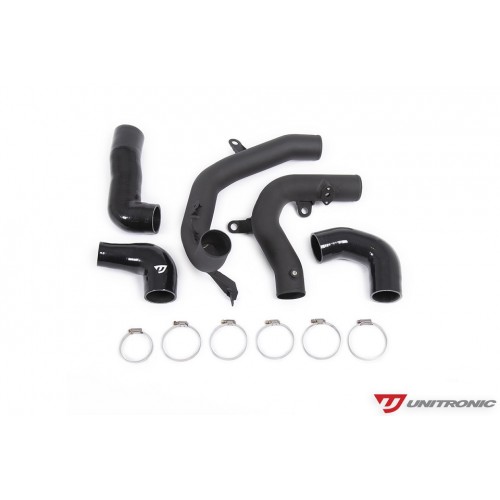 Product Information
Unitronic's Charge Pipe Upgrade Kit for the 1.8/2.0 TSI MQB engines is comprised of an upgraded Turbo Discharge Pipe, Throttle Body Pipe, and silicone Intercooler Inlet/Outlet hoses. This complete upgrade kit features a high-flow design that eliminates restrictions in the boost (charge) piping leading from the turbocharger outlet to the engine, allowing for unrestricted airflow.
With a larger 60mm internal diameter (I.D.), matching multi-ply reinforced and fluorolined silicone couplers, smooth transitions, and fewer restrictions through optimized routing of the one-piece mandrel bent lightweight Aluminium tubing, Unitronic's Charge Pipe Upgrade Kit will remove restrictions through the intercooler plumbing.
Unitronic's multi-ply reinforced silicone hoses are more robust than the factory hoses and will not expand/balloon with higher boost pressures. Additionally, Unitronic's silicone hoses feature a fluorolined inner layer to ensure resistance to oil penetration. Standard silicone hoses are likely to see oil penetration and degradation over time from the lack of fluorolining.
Unitronic's Throttle Body Pipe includes a pre-drilled and tapped 1/8" NPT port for convenient Water/Methanol Injection nozzle installation, along with a properly placed bung for the OEM Manifold Absolute Pressure (MAP) sensor.
Unlike its competitors', Unitronic's Charge Pipe Upgrade Kit includes all the OEM wiring harness mounting points, to avoid wiring harnesses from dangling within your engine bay, or having to zip-tie them manually.
60mm Internal Diameter (I.D.)

Lightweight Aluminum tubing

Smooth airflow transitions

Multi-ply reinforced silicone hoses

Fluorolined inner layer on silicone hoses for oil penetration resistance

Factory wiring harness mounting points

1/8" NPT Water/Meth injection port w/ plug

Integrated MAP sensor bung

Durable wrinkle black powder coated finish

Direct bolt-on fitment
Throttle Body Pipe

Turbo Discharge Pipe

Silicone Intercooler Inlet/Outlet hoses
The Unitronic Charge Pipe Upgrade Kit for vehicles equipped with the 1.8/2.0 TSI Gen3 (MQB) is designed to be simple to install with all the hardware necessary included. Installation time will take approximately two hours including the removal of the factory system and installation of your new Charge Pipes.