Unitronic Performance Downpipe 1.8 TSI MQB EA888.3 AWD
Go Back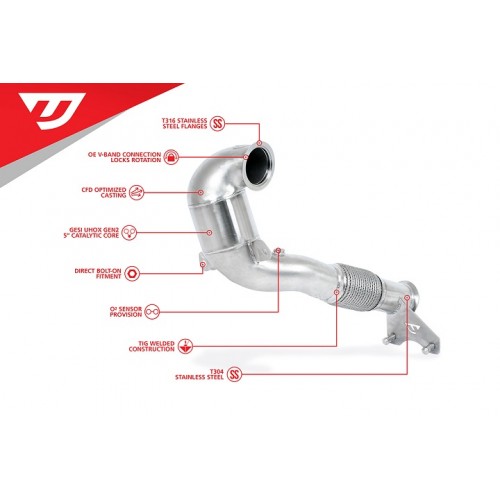 Product Information
The Unitronic Performance Downpipe for 1.8TSI MQB EA888.3 AWD vehicles is a direct bolt-on upgrade, designed to optimally eliminate unwanted restrictions in the factory downpipe, reduce turbo lag and enhance the exhaust note. It utilizes a 5" 400cpsi ultra high output (UHO+) catalytic converter, designed in partnership with Unitronic, from our emissions partners at Global Emissions Systems Inc (GESi).

Paired with Unitronic Stage 2 Performance Software and other supporting bolt-ons, this Performance Downpipe helps yield maximum power gains.
Features / Benefits
GESi 5" G-Sport UHO+ 400cpsi Catalytic Converter

Meets or exceeds local testing standards

CFD Optimized Upper Downpipe Castings

TIG-welded construction

Factory catalyst placement for maximum efficiency

Oxygen Sensor provision maintained

OEM-style corrugated mesh flex bellow

Direct bolt-on fitment

Enhanced exhaust note

Reducers available for factory or upgraded cat-back systems
Hardware Included
Unitronic Performance Downpipe Featuring GESi 5" G-Sport Ultra High Output UHO+ 400cpsi Catalytic Converter

2x V-band clamps and centering rings

1x Stainless steel midpipe section

1x Stainless steel exhaust reducer
Meets or Exceeds Local Testing Standards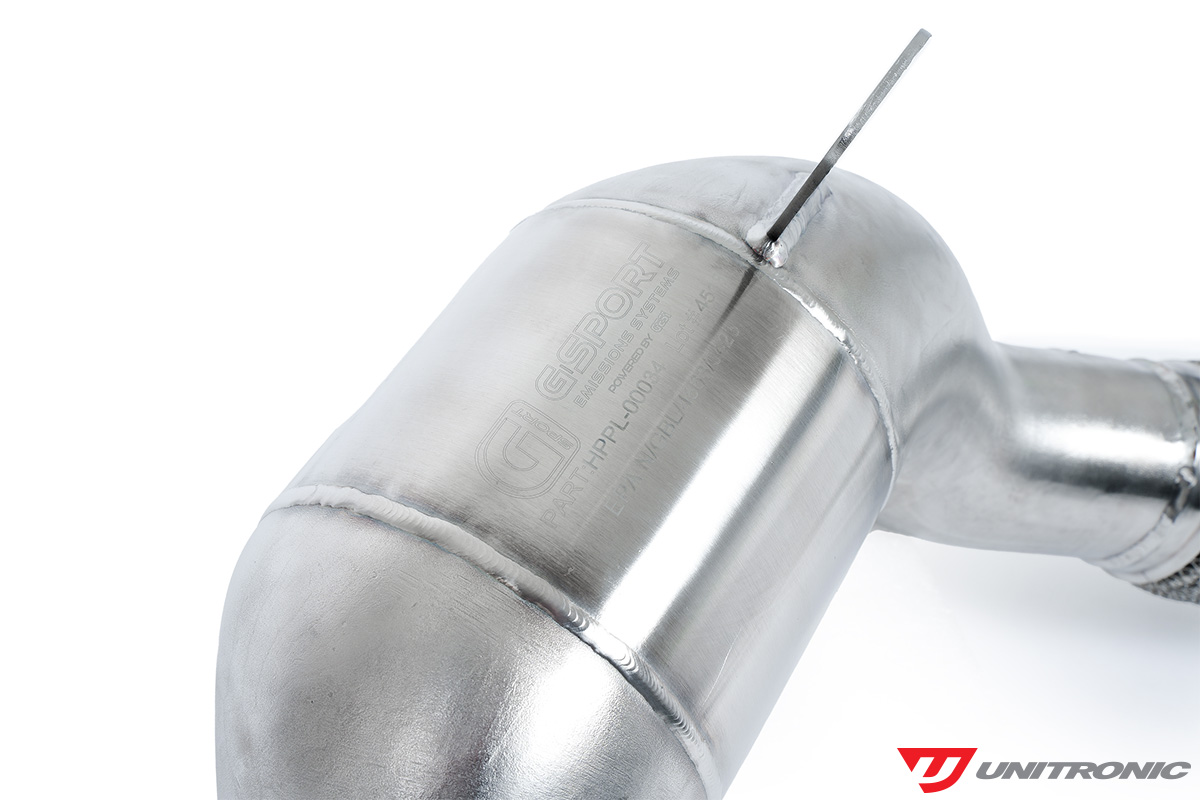 While working closely with GESi through several iterations of their G-Sport Emissions Systems Catalytic Converters over the years, our goal once again was to ensure this product would satisfy our compliance demands, while fulfilling Unitronic's performance related goals. The engineering team quickly opted for a GESi 5" UHO+ converter for this Performance Downpipe, which met the requirements for the 1.8TSI MQB EA888.3 engine, while being rated for a massive 1000HP.
Unbeatable Design and Construction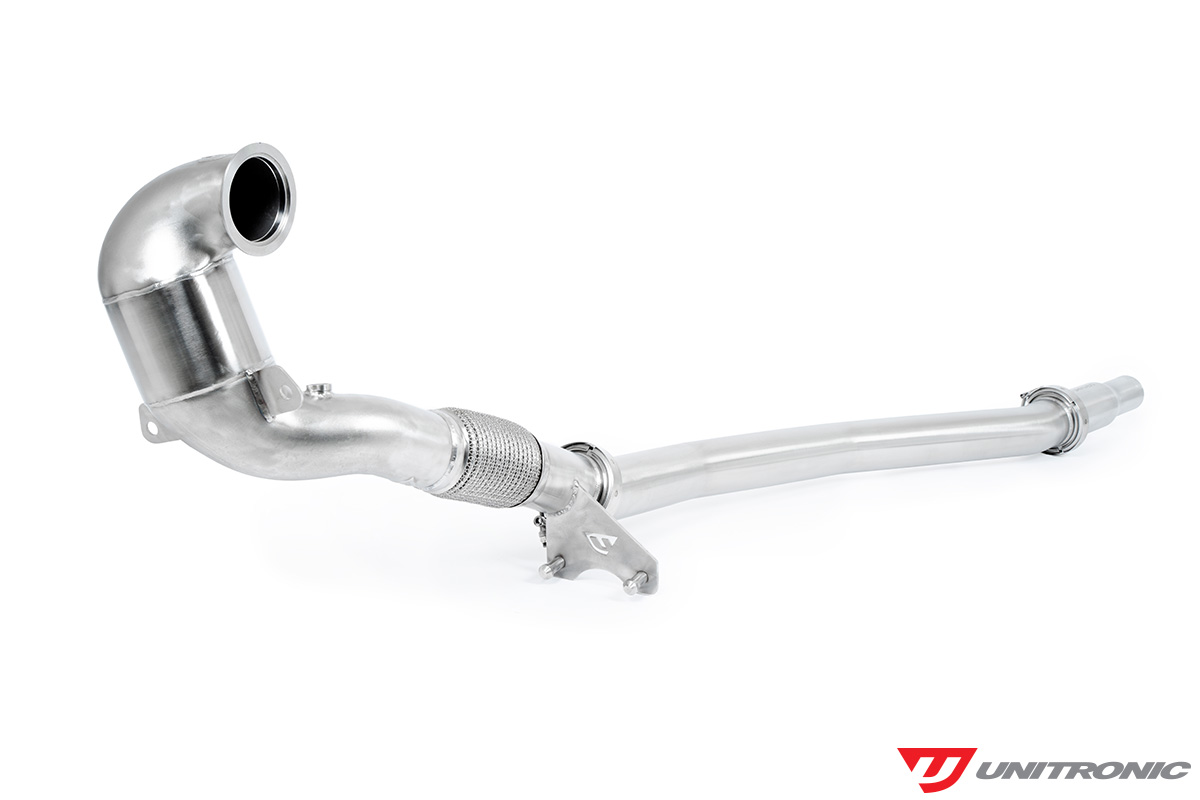 In order to meet the power demands of the 1.8TSI MQB EA888.3 engine, Unitronic designed and incorporated high quality CFD optimized castings in the upper downpipe section which are heat resistant and provide exceptional flow into the large 5" catalytic converter. Exhaust gasses continue through the OEM-style corrugated mesh flex bellow into the stainless steel midpipe section and reducer, all secured by v-band clamps and centering rings.
Sealing V-Band Design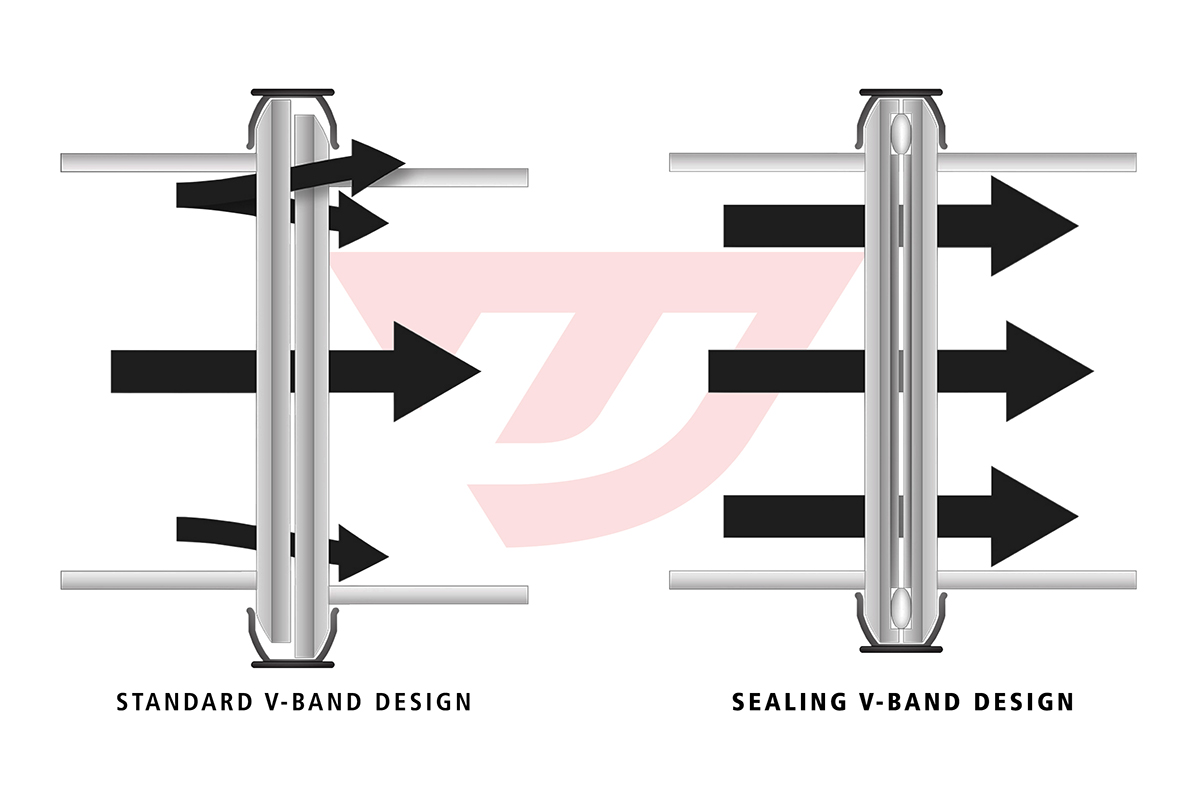 Unique V-Band Fastening System Featuring Clampco® Clamps which maintains perfect alignment while ensuring a leakproof connection. These clamps also help lock rotation so you can rest assured there will be no exhaust play during hard acceleration or spirited driving.