VF Engineering VF570 Supercharger Kit for Z4M
Go Back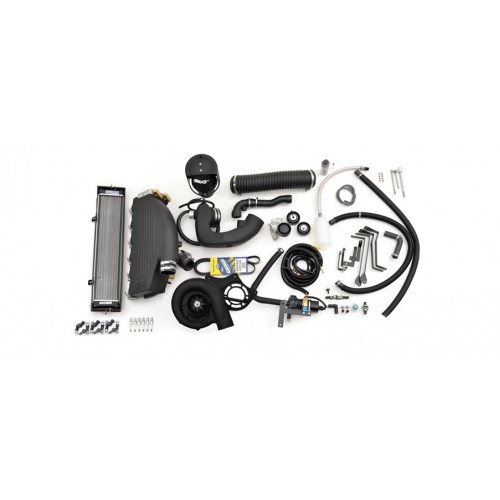 Product Information
The VF-Engineering supercharger for the BMW E85 Z4M S54 engine is the only water cooled supercharger system on the market. Designed to provide the most consistent charge temperatures under aggressive driving, the VF water intercooler system has a greater propensity to dissipate heat energy out of the air charge than an air intercooler.
VF use state of the art production manufacturing processes to create the highest quality supercharger kit on the market. A supercharger system designed with 2 stages of power, each stage up-gradable to the next, this piece of kit is for quality discerning enthusiasts only.
Based upon the Vortech V3 Si-trim Super Quiet unit, this unit is capable of supporting over 700hp. The centrifugal supercharger compressor maps ideally match the 8000 rpm revving S54 BMW Motorsport engine giving it a new meaning to high performance.
Machined from 6061-T6 aircraft grade aluminum the supercharger mounting bracket is triangulated to the engine block in addition to a Chrome Moly brace and grade 10.8 high tensile hardware. The factory belt tensioner is upgraded and the supercharger driven off an OEM quality multi-rib seperpentine belt. The factory plastic intake manifold is replaced with a VF cast aluminum plenum designed to channel the air from the supercharger to the 6 independent M3 throttle bodies. The VF plenum is designed to be upgraded with a slide-in high strength bar and plate heat exchanger for the upper 2 power level kits. The heat exchanger cools the intake air charge with isolated cold water circulating through it from a custom molded water reservoir, an OEM front mount radiator and water pump.
The high displacement bypass valve recirculates air charge off-throttle to minimize manifold pressure instantly. The bypass valve is mounted on a universal flange allowing you to opt for a blow off valve. The injectors are upgraded with high capacity Bosch EV14 high impedance quick response fuel injectors and calibrated by re-tuned software flashed into the ECU through the OBD2 port. This system has been fully road tested and dyno tuned on both the Mustang MD500AWD and in-house Dynojet 224XLC dynamometers with and without engine load. Each power level is tuned with a specific custom calibrated software version.
Software is programmed into your ECU using the optional "Hex-Flash" programming cable. You can program your ECU in 15 minutes yourself through the OBD2 connector on your dashboard. This tool also allows you to read and clear ecu codes.
570 hp / 380 ft/lb

8.5-9.0 PSI

V3-Si supercharger

Cast intake manifold

Slide-in air/water cooled cartridge

ECU software flash
Vortech V3 Si-Trim supercharger

Cast intake manifold

Air water charge cooler system (optional)

Polypropylene water reservoir

OEM high density water radiator

Bosch water pump

Bosch fuel pressure regulator

Bosch EV14 fuel injectors

1 Heat range cooler NGK spark plugs

Greddy Type-R bypass valve

Hard anodized 6061-T6 aluminum bracket

Chrome moly support bracket

OEM serpentine belt and tensioner

Cast aluminum intake

K&N induction filter

Hex Flash ECU tuning programming cable

Install time 14 hours

Made in California, USA