Unitronic AWD Downpipe for 2.0 TSI
Go Back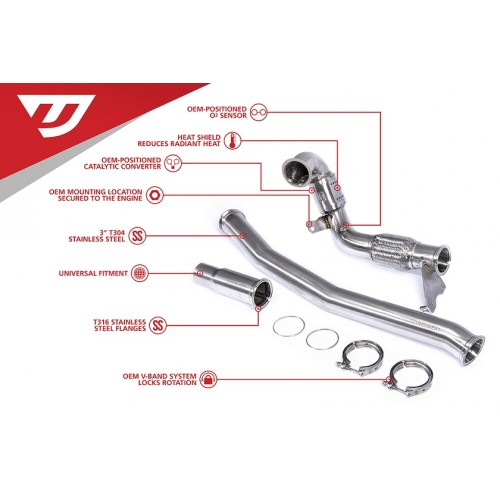 Product Information
Constructed of 3" T304 stainless steel mandrel bent tubing, T316 stainless steel flanges, a corrugated stainless steel flex section, and TIG welded fabrication, this downpipe is built to withstand the test of time, while performing to the max. All Unitronic downpipes come equipped with a 200-cell high flow metallic catalytic converter and all transitions are flow-matched to allow for maximum performance and airflow. In addition, Unitronic exhausts feature an easy-to-use v-band exhaust fastening system to ensure a fast and effortless installation and precise fitment. To finish it off, an OEM-inspired catalytic converter heat-sheild protects against unwanted heat radiating in the exhaust tunnel. Every Unitronic Exhaust System comes equipped with a brushed matte finish for an elegant appearance that will last a lifetime. There's simply nothing like it!
Direct Bolt-On Fitment with OEM mounting locations:
To ensure a seamless direct bolt-on upgrade

Smooth 80mm to 76.2mm turbo to downpipe transition:
Assure a smooth flow transition between Turbine housing and 3" Stainless steel piping.

Factory position 200-cell metallic matrix high-flow catalyst:
For maximum efficiency.

OEM Oxygen Sensor Placement:
No need for O2 sensor extension or modification of the wiring harness.

OEM-inspired catalytic converter heat shield:
To reduce radiant heat.

3-inch T304 Stainless Steel Tubing:
Top quality material that will not rust and will outlast your vehicle.

T316 Stainless Steel Flanges:
Durable, rust proof and laser cut.

TIG Welded Construction:
Professionally TIG welded to ensure longevity, durability and top tier craftsmanship.

4-inch Corrugated Stainless Steel Flex Section:
High quality flex with inner interlock that will stay leak proof for years. It allows engine movement without stressing the factory rubber mounts.

Unique V-Band Fastening System Featuring Clampco® clamps:
Maintain a perfect alignment of v-band flanges while ensuring a leak-proof connection every time. Fully reusable and quick to install.

Universal Fitment:
Comes with OEM size reducer for a direct bolt-on. Optional 3" adapter available for any after market exhaust system or 3" slip fit adjustable link to match to any Unitronic exhaust system.

Unitronic Life Time Warranty:
Unitronic Performance Hardware Products carry a Limited Lifetime Warranty
Unitronic 3" Catatlytic Converter Section

Unitronic 3" Downpipe Section

Unitronic 3" V-Band Exhaust Clamps

Unitronic 3" V-Band Sealing Rings

All Necessary Hardware Included
Featuring a unique v-band fastening system and engineered using the latest in 3D modeling technology, Unitronic Performance Exhaust Systems are made easy to install.