Unitronic 3.0T Exhaust for B8/B8.5 S4
Go Back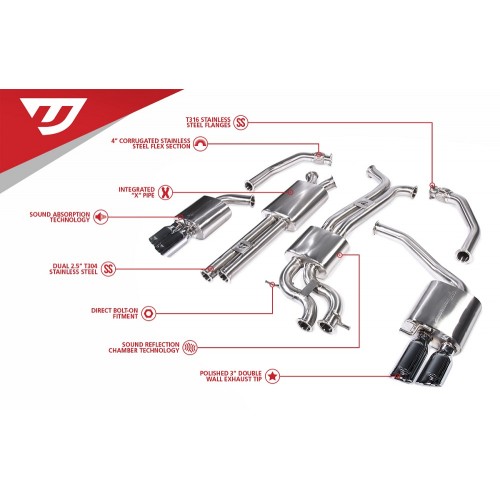 Product Information
Unitronic is pleased to present its 2.5" Cat-Back Exhaust System for the B8/B8.5 S4 and S5. Featuring TIG welded T304 Stainless Steel CNC mandrel bent construction, T316 stainless steel flanges, and a straight-through, free flowing design; Unitronic's Cat-Back Exhaust Systems are designed to remove the factory exhaust restrictions to unleash the full potential of the engine.

Like all of Unitronic's Performance Exhaust Systems, a unique v-band fastener system, using T316 Stainless Steel flanges was utilized to ensure a leak proof connection every time. This is achieved through a locking ring on all Unitronic v-band flanges to guarantee a centric alignment of the two flanges. Unitronic's Cat-Back Exhaust System features a high density, high temperature glass fiber muffler packing, and engraved Unitronic logo. These attributes combined ensure maximum performance, while maintaining a comfortable and unobtrusive tone inside the cabin. Exiting at the rear, exhaust gasses pass through dual 3" slash cut tips and engraved with the Unitronic logo.
Features / Benefits
Dual 2.5-inch T304 stainless steel:
Top quality material that will not rust and will outlast your vehicle.

T316 stainless steel flanges:
Durable, rust proof and laser cut.

Brushed finish matte finish:
Brushed matte finish for the best possible look.

4-inch Corrugated stainless steel flex section:
High quality flex with interlock construction that will stay leak proof for years; allows engine movement without stressing the factory rubber mounts

Polished 3-inch Double walled exhaust tips:
Mirror polished tips with engraved Unitronic Logo.

Flow-match transitions:
Flow-matched transitionsfor maximum performance and airflow.

Integrated X pipe:
Reduce unwanted sound frequency; unique exhaust tone.

Sound absorption technology:
Perforated chamber packed with high quality and durable high temperature fiberglass wool; ensures a deep tone while absorbing unwanted frequency.

Sound reflection chamber technology:
Sound reflection chamber used to cancel unwanted sound frequency to ensure a deep tone.

Straight-through, free flowing muffler design:
Optimal performance achieved by removing restriction and reducing back pressure.

TIG welded construction:
Professionally TIG welded to ensure longevity, durability and top tier craftsmanship.

Unique v-band fastening system featuring Clampco® clamps:
Maintain a perfect alignment of v-band flanges while ensuring a leak-proof connection every time. Fully reusable and quick to install.
Hardware Included
Unitronic Left Downpipe Section

Unitronic Right Downpipe Section

Unitronic Front Resonator Section

Unitronic Mid Resonator Section

Unitronic Left Rear Muffler

Unitronic Right Rear Muffler

All Necessary Hardware Included
​
​